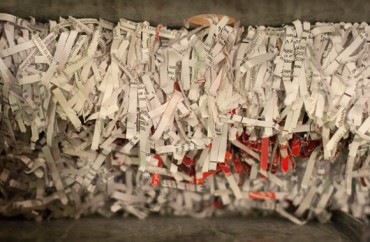 An undercover journalist for Project Veritas recently tricked her way into a half-dozen administrators' offices complaining that being handed a pocket-sized copy of the U.S. Constitution prompted her to be incredibly uncomfortable and emotionally distraught, that the incident literally haunted her dreams.
With serious expressions, officials at Cornell, Syracuse, Yale, Vassar and Oberlin listened as this young, white "student" told them a similar story in a soft-spoken yet assertive voice that after being handed the booklet on campus she realized the Constitution was a "trigger" for her, that she saw it as an "oppressive document."
As she tells her tale of woe, the administrators – various Title IX officers and feminist professors and equal opportunity/diversity deans – listen intently, nod, agree, console. At some point you can almost interpret the looks on some of their faces as incredulousness, but according to the two videos put out by Project Veritas this week, they never expressed doubt about the "student's" sincerity out loud.
But the undercover reporter is so over-the-top with her complaints — bemoaning that she's been sick and distressed and gripped with anxiety ever since the Constitution was handed to her (at one point she even says "I mean, I am like scared to walk around campus and see the Constitution) — that at any minute you expect the administrators to at least chuckle, or even perhaps say: "Alright – where's the hidden camera. I'm being punk'd – right? Ashton, get out here!"
But no, far from it. They agree the Constitution is flawed. They commiserate with the "student." And when she asks them to destroy the booklet as a means of catharsis, they happily agree, the videos show. They cut it up, shred it, rip it up with their bare hands or otherwise destroy the Constitution to help this special snowflake feel better.
The undercover sting operation was all caught on hidden camera, the brainchild of Project Veritas President James O'Keefe, who also famously crossed the U.S./Mexico border in an Osama Bin Laden mask and exposed illegal activities by ACORN, among other investigations.
It's clear none of the administrators featured in his latest operation offer to shred the document on their own, the undercover reporter puts them up to it, telling them it will help her. So they are, on some level, trying to ease her "pain." And in fact that is part of their job descriptions.
However, there's a lot these videos reveal about the sorry state of affairs on campuses today. Here's just a few.
1. Today's students are as whiny as we thought. That none of the officials even bat an eyelash at this fretful female complaining about being handed a copy of the Constitution tells us they must be used to such petty, vacuous complaints.
2. Administrators coddle students. None of them dared think to turn this into a teachable moment by saying: "Look, so-and-so, with all due respect, the U.S. Constitution is one of the most groundbreaking documents in the history of the world, studied by students from kindergarten on up. It's what spells out our nation's laws and grants us the freedoms we all enjoy today. Many people in countries such as Iran, China and Russia would kill to be governed by it. You need to get a grip on yourself and gain some perspective."
The closest anyone came to a teachable moment was when one official tells the student that everyone can interpret the Constitution as they see fit, even know she agreed it's "flawed."
3. Administrators dislike the Constitution as much as professors. Campus officials in the videos were only too quick to agree with the "student" that it's a racist, oppressive document. And it's very telling that none of the administrators were shocked to see a student saying such things. It verifies they know exactly what's being taught inside nearby classrooms, and pretty much agree.
4. There is still a very small sliver of hope. Despite the "student's" best efforts to get officials to agree that a copy of the Constitution should not even be on campus, none of them really took the bait. The Yale official said he'd look into the policy regarding the distribution of "propaganda" on campus, but also told her that having a copy of the Constitution in the library is acceptable. (Gee, thanks.)
In the end, these videos are a perfect illustration of just how NUTS our American college campuses have become. They are filled with fragile students and run by people who not only openly disdain much of what America stands for, but are actively working to erode those principles and replace them with their own illiberal logic.
Please, watch the two videos here and here. The best part about them is the comic relief James O'Keefe offers when he dresses in a Constitution costume and does the running man as he hands out copies of the document to students.
Because in the end, you have got to laugh out loud at these videos as you listen to this chick moan and groan over the Constitution. It the most ridiculous thing you've ever heard, and these officials swallow it hook, line and sinker.
Like The College Fix on Facebook / Follow us on Twitter
IMAGE: Shutterstock