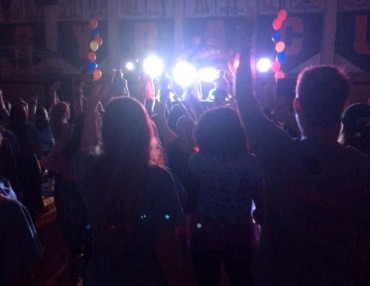 Millennials show altruistic side at Syracuse University
For a college student to dance for 12 hours straight without sitting down, it's not a stretch to assume they've consumed Molly and are under the trance of hypnotic club lights and rhythmic beats.
But at Syracuse University last weekend, more than 300 college students danced for hours on end – in a campus gym and completely sober no less. They never sat down. Kept smiling. They moved until their legs ached and their bodies felt exhausted.
During moments of weakness, they encouraged each other. "Stay strong" and "keep it up" could be heard echoing among the throng of student dancers in the Syracuse gym.
For these students weren't dancing for themselves, for their own enjoyment or gain. They were dancing for the infants and children less than a mile away from the festivities, some of whom have Leukemia, others who suffered injuries in accidents – kids fighting for their lives.
The inaugural Syracuse University OttoTHON brought together students from all walks of life Saturday to raise money for the Children's Hospital on campus, a cause that crossed boundaries, bringing a wide mix of students together for a common cause: "For The Kids."
That was the rallying cry for the event, from its infancy planning stages to the actual dance marathon, a massive undertaking that took months to plan and eventually raised roughly $84,000.
There was only one rule: no sitting allowed. Athletes, Greek life members, campus clubs and others in the community all paid $100 each to dance the night and morning away.
"I did it for the children," Magda Ivette, a freshman anthropology major, told The College Fix. "It was nice to give back, and it was a challenge that has meaning."
At the beginning of each hour, Bruno Mars' "Uptown Funk" would blast over the speakers. That's when everyone would perform the "Morale Dance" under flashing lights to help keep energy and spirits high. The dance was akin to the electric slide, and each time it played the crowd reacted with cheers, moving to the beat. Performances and a cappella groups also kept things lively.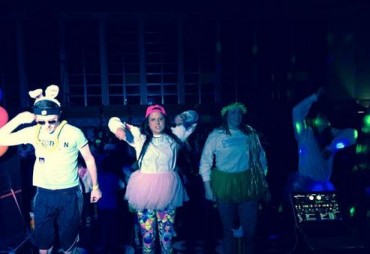 Students laughed, and sometimes wiped away stray tears during speeches from hospital patients and their families. Two students even passed out during the emotionally charged night. Syracuse University has often been dubbed a "party school," but the event helped illustrate the selflessness of its students.
"[T]hose kids deserve every bit of help and attention we can give," said freshman Emily Gallagher, adding the children in the hospital stay strong while on hard paths, so certainly she felt she could push through 12 hours of dancing.
Sometimes millennials are referred to as "Generation Me," but students at Syracuse on Saturday said they were fighting for something much bigger than themselves, and it felt great.
"It was nice to put things in perspective, and be more mindful of your own blessings," said Madelyn Kelly, a freshman film major.
The dance marathon went from 6 p.m. Saturday, Feb. 28, through 6 a.m. Sunday, March 1. The beneficiary was Upstate Golisano Children's Hospital, located on the campus grounds.
Several families who either had a child treated at Upstate Golisano, or who had been helped by other THON events, spoke about their experiences during the first several hours of the event.
"When you don't know how to put one foot in front of the other, they help you, and they talk to you and tell you how to put one foot in front of the other. They tell you, 'keep taking it day by day, keep doing what you're doing, and we'll take care of the rest,'" a cancer survivor told the crowd about the care she received.
Proceeds will help families pay for medical expenses that their insurance does not cover, such as medicines, therapy, hearing aids, wheelchairs, travel expenses for family members who want to stay with hospitalized children, formula and diapers.
"We had a cause, something worth fighting for," organizers said. "Accomplishing what no one thought we could."
College Fix reporter Victoria Razzi is a student at Syracuse University.
Like The College Fix on Facebook / Follow us on Twitter
IMAGES: Twitter