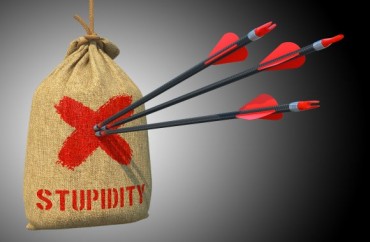 "Kavanaugh is lying. His upbringing explains why" is the title of Columbia sociologist Shamus Khan's recent Washington Post piece on US Supreme Court nominee Brett Kavanaugh.
You read that correctly: Since Judge Kavanaugh had (and has) a privileged life, the concept of truth is not something he values.
This is the sort of garbage we've come to expect from academics (especially via the Ivy League): identity politics, progressive back-patting, critical theory, and heavily parsed language.
On that last point, Khan, who's chair of his department and an executive committee member of the Institute for Women, Gender, and Sexuality, writes (emphasis added) "Brett Kavanaugh is not telling the whole truth," (conflicting with his article's title) and notes a few discrepancies in some of the judge's past statements. For example, he says Kavanaugh did lie when "he told senators that he'd had nothing to do with the war on terror's detention policies," but statements regarding an illegally obtained Democratic Party memo were "probably false."
Oh.
Regarding more recent testimony, Khan adds "it cannot be possible" that the judge was a "well-behaved virgin" and partying member of the "Keg City Club," …the big sexual misconduct allegations against him notwithstanding. "How could a man who appears to value honor and the integrity of the legal system explain this apparent mendacity?" the prof asks.
Answer: His privilege.
"The answer lies in the privilege such institutions [Georgetown Prep, Yale College, Yale Law School] instill in their members, a privilege that suggests the rules that govern American society are for the common man, not the exceptional one."
It's not too difficult to fathom that wealthy and privileged individuals can get away with things the less affluent cannot. But to automatically assume Judge Kavanaugh's guilt in the matter of Christine Blasey Ford because of his background is just the latest, and ludicrous, example of academy-generated identity politics.
As you meander through Khan's article, you may ask yourself (apologies to David Byrne): What would the professor say about the Kennedy family … and about myriad other — Democratic — politicians and jurists? Are we now permitted to make generalizations about poor people?
But most significantly, why should we even bother listening to Khan at all … when he too is a product of privilege?
Much like the current academic fad of "whiteness" (and the study thereof) where any conceivable evil can be ascribed to the American majority population (the only demographic for which criticism is permitted, by the way), having had a nice, comfortable upbringing means "truth" is an exotic concept.
Here's an idea: Let's throw Professor Khan's whole premise right back at him. Academics in the "studies" fields and in departments such as anthropology and sociology should not at all be taken seriously merely because of the subject matter. Khan's specific areas of study, cultural sociology and gender & sexuality, are heavy in esoteric theory with researchers who engage in community back-pats for citing increasingly outlandish hypotheses.
You want stereotypes based on identity politics? You got 'em.
MORE: Harvard socialists rally against Brett Kavanaugh: 'Hell Nah'
MORE: Crimson proves we should be VERY worried about due process
IMAGE: Tashatuvango/Shutterstock.com
Like The College Fix on Facebook / Follow us on Twitter