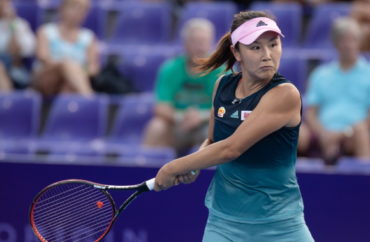 A Yale student, writing anonymously to protect family in China, speaks out against the Communist Party's 'oppressive regime'
An anonymous student penned an op-ed in the Yale Daily News to declare support for Chinese tennis star Peng Shuai and call for the university's divestment from China.
The Chinese Communist Party will try to make the world forget Peng, the author stated, for her allegations of sexual assault against a former party official:
A month after Chinese tennis star Peng Shuai publicly accused a former Communist Party official of sexual assault, I still don't know if she is safe and free. But I know how the oppressive regime will bury her: Peng Shuai won't be made a martyr. She won't be charged. She will disappear from the public, except for a few official publicity stunts. Finally, after months and years, she will be forgotten. Or so planned the Chinese Communist Party (CCP).
Despite its regular policy against anonymous submissions, the Daily News withheld the author's name and prefaced the article with this statement:
The News has granted the author of this piece anonymity due to a risk to their family's safety. The author is a University student with family in China who might be harmed by the piece being published with the author's name.
Peng posted on the web forum Weibo in November 2021 that former Vice Premier Zhang Gaoli had "forced" her to have sex with him.
After she shared the post, which was quickly removed, the tennis star vanished from public view for several weeks. On November 17, state media network CGTN published an email it claimed was from Peng, containing retraction of the allegations.
The White House, news outlets and human rights organizations worldwide have since questioned the validity of the retraction and voiced concern that Shuai's weeks of silence may have concealed coercion or other mistreatment by her government.
Doubts continued to circulate despite Peng's appearance in video clips posted by a Communist Party-controlled newspaper and a video call with the president of the International Olympic Committee. On December 1, the Women's Tennis Organization suspended tournaments in China due to concerns about Peng's welfare.
In a December 20 story in the New York Times, Raymond Zhong and Chris Buckley stated that the Chinese government has a "long record" of strong-arming critics of its party into abandoning their claims.
The Chinese Communist Party's actions have demonstrated that "every dollar of investment in China is unethical, until the CCP is willing to positively respond to, and act on, allegations by Peng Shuai and many others," wrote the anonymous author in the Yale Daily News.
Yale's endowment must divest from Chinese businesses, as every private company in China with three or more party members must answer ultimately to the Chinese Communist Party, which is committed to suppressing the smallest deviation from its agenda, the student argued.
To invest in Chinese business, as Yale does, is to enable a regime that has failed to protect Peng Shuai and countless others, the op-ed continued. 
"We have a right to know," the writer opined, "whether our University that claims to uphold 'light and truth' is playing an unethical role in perpetuating some of the worst human rights abuses in modern history."
MORE: China's sanctions on scholars lead to growing academic backlash in U.S.
IMAGE: Mai Groves / Shutterstock
Like The College Fix on Facebook / Follow us on Twitter