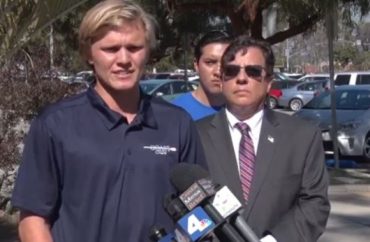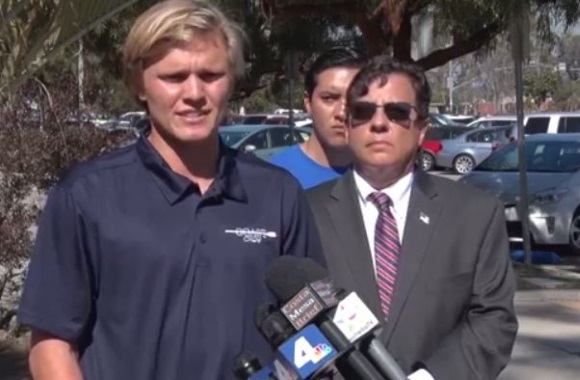 "They're crucifying this poor guy."
"Mr. O'Neil is the Edward Snowden of the college system and kudos to him for exposing this kind of leftist hyperbole."
"Mr. O'Neil is a de facto whistle blower who has sunshined an instructor that is wasting the taxpayers' monies and the students' tuition."
That's just some of the comments culled by the Orange County Register from residents and public figures recently regarding the plight of  Caleb O'Neil, a 19-year-old Orange Coast College student recently suspended for allegedly violating a policy that prohibits recording professors.
Shortly after the election, instructor Olga Perez Stable Cox told her human sexuality class of Trump's election "we have been assaulted, it's an act of terrorism," among other comments. She also called Donald Trump a "white supremacist" and said Mike Pence is "one of the most anti-gay humans in this country."
O'Neil, a member of the College Republicans and an open Trump supporter, recorded the rant and gave it to his College Republican peers, who then uploaded it on YouTube. The video went viral and ultimately led to the sanctions handed down against O'Neil late last week.
In addition to his semester-long suspension, as well as being suspended for the summer term, he must also write an apology letter to the professor and a three-page, double spaced essay discussing why he videotaped the professor despite "knowing that it was a violation of the course syllabus."
Now his attorney is fighting the punishment. Meanwhile, many have rallied to O'Neil's defense. For one, a GoFundMe page has been created to help pay his legal bills, stating "these excessive punishments against Caleb come as the campus fails to have addressed Professor Cox's comments."
The Orange County Register also reports that a Republican state senator told constituents if the college is going to punish the student, it should also punish the instructor, and the Orange Coast College spokesman confirmed the school is hearing from people across the country, and most of that feedback is in support of O'Neil.
O'Neil can continue to attend classes during his appeal.
MORE: Professor tells students: Trump's election an 'act of terrorism' (VIDEO)
MORE: Student who recorded prof's anti-Trump rant suspended, lawyer fights sanctions
Like The College Fix on Facebook / Follow us on Twitter