White and Asian male student applicants, with the slim exception of veterans or those with disabilities, are the only students who are not encouraged to apply for a lucrative learning opportunity offered through Washington and Lee University's Williams School of Commerce, Economics and Politics.
The program is offered by the Williams Investment Society, or WIS, "a student organization that manages a portion of Washington and Lee University's endowment in equity securities," its website states.
"To promote equality of opportunity, the WIS has developed a successful diverse shadow program and we encourage you to apply if you self-identify with any of the following communities: Women, Black, Lantinx, Latin, Native American, LGBTQ+, Veterans, and Students with Disabilities," the society states in advertising the program.
According to the university's published demographic stats, a little less than half of its 2,183 students are male, making men more of a minority on campus than women. There's also 55 Asian female students enrolled versus 38 Asian males. The vast majority of students are white.
"If you are selected to participate in the shadow program, you will be assigned to an industry group, and have the opportunity to work with that group on company valuation, industry analysis, and discussions on equity portfolio management," the Williams Investment Society advertises for its shadow program.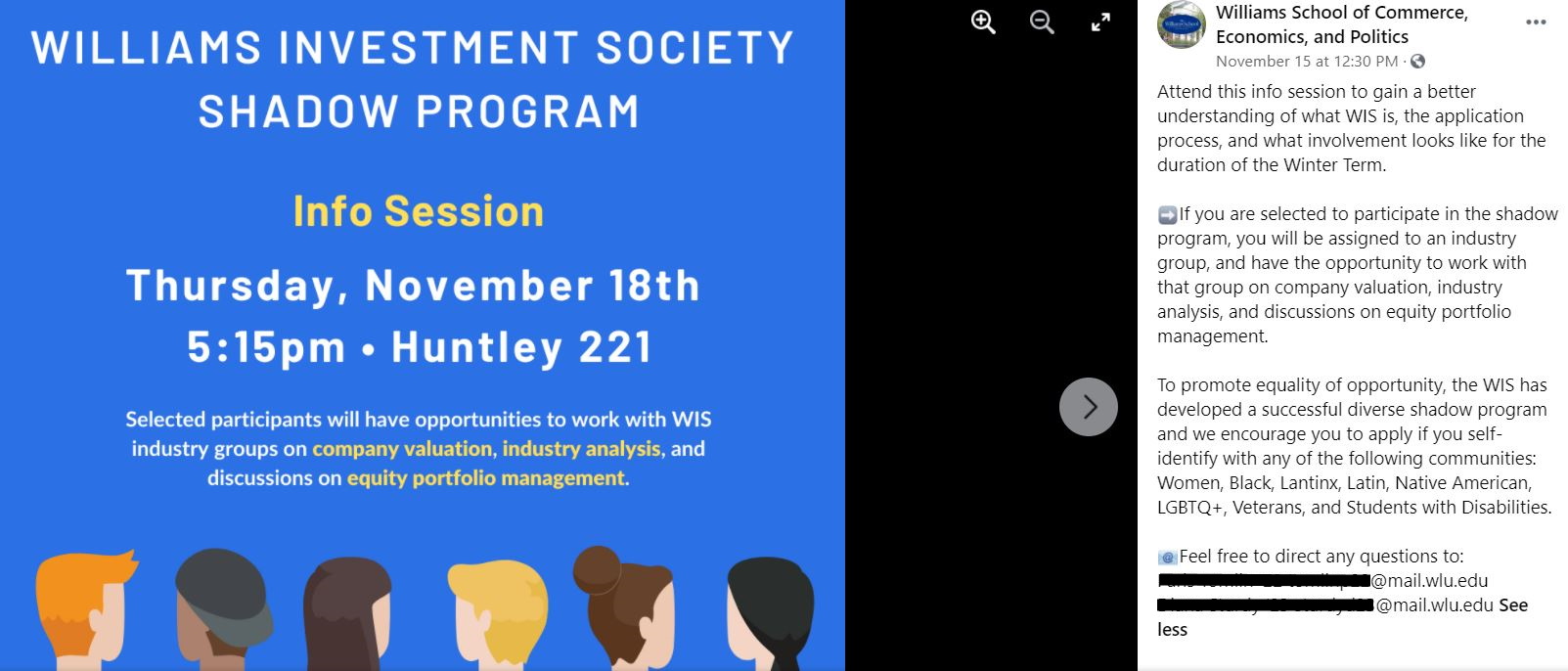 An informational meeting for the shadow program was held Nov. 18.
Student leaders listed as contacts for the shadow program did not respond to numerous requests from The College Fix over the last two weeks asking about the fate of white and Asian male applicants to the program, as well as those with mixed races that include white, as well as whether there is another, similar college program that openly accepts white and Asian males.
Drewry Sackett, associate director of communications and public affairs for the university, did not respond to several emails and a phone call as well from The College Fix.
The private institution lists on the bottom of the homepage of its website a disclaimer that "Washington and Lee University does not discriminate on the basis of race, color, religion, national or ethnic origin, sex, gender identity, gender expression, sexual orientation, age, disability, veteran's status, or genetic information in its educational programs and activities, admissions, and with regard to employment."
While those on campus are tight-lipped about the program, leaders with a Washington and Lee University alumni watchdog group, the Generals Redoubt, told The College Fix that the silence from campus is troubling.
"While I am unfamiliar with the specifics of the program in question, the lack of response from the university is a poor harbinger for its efficacy," said group leader Jay Fant.
"Our non-partisan organization is comprised of students, parents and alumni of the school and President [William] Dudley will not meet with us either. Things are going seriously wrong at W&L from a leadership standpoint and the more we learn the worse it gets."
Tom Rideout, another leader with the Generals Redoubt, offered rhetorical questions about the program.
"If it is necessary to seek diverse applicants through a shadow procedure, what is the reason," he said via email. "Is it to give selected diverse student groups an advantage and omit others, such as Asians, who may be well qualified and represented? If this is so, cannot it arguably be a discriminatory practice?"
"…The failure of the program to respond to your objective inquiry simply raises additional questions of possible academic engineering."
MORE: Washington and Lee students want diplomas — without portraits of Washington and Lee on them
IMAGE: YouTube screenshot
Like The College Fix on Facebook / Follow us on Twitter