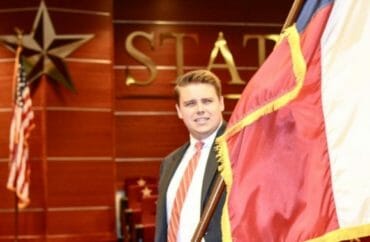 The student body president at Texas State University has been impeached following allegations of racism and not representing all students, a move that came after several days of racial tensions on campus during which student protesters aggressively confronted police and experienced visible meltdowns while conservative students voiced fear for their safety.
Embattled student body president Connor Clegg was impeached Monday, two days before his term was set to expire, over nearly 4-year-old Instagram posts that mocked Asian tourists in Europe, as well as for more recently calling for the campus newspaper, the University Star, to be defunded after it published an op-ed that proclaimed "white death will mean liberation for all."
Clegg has long since apologized for the old social media posts, referring to them as "stupid" and "locker room talk" and referencing his youth.
But many student activists, one of whom wrote the "white death" column and another who lost to Clegg during last year's student election, argued the apology was not enough and wanted him removed from office. They were among a chorus of leftist student voices that included members of the Pan-African Action Committee, Latinas Unidas, PAAC, National Association for the Advancement of Colored People Unit 6875-B, Texas Freedom Network Texas Rising for LGBTQIA Equality and Student Community of Progressive Empowerment.
The student who lost to Clegg during last year's student election, Russell Boyd, can be seen in this video taken April 20 having some sort of meltdown, gripping a large brown teddy bear as he lays on the ground in front of a cop car. Boyd was among the dozen students who blocked the police car Friday as it attempted to escort home two student government members who may have harbored sympathies for Clegg.
Watch the video: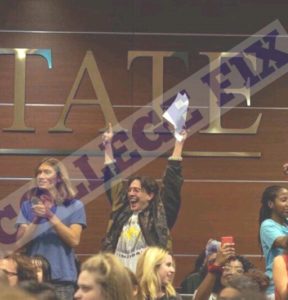 As for Monday's successful impeachment vote, many students jumped for joy after it was announced, according to numerous photos and videos taken by those in attendance. In this image supplied to The College Fix, the author of the "white death" column, Rudy Martinez, can be seen celebrating the news as well.
For months, Martinez has been one of the most vocal opponents of Clegg, as documented in this College Fix report from early February.
The months-long unrest that led to Monday's vote can also be traced in part to an impeachment vote that was supposed to take place earlier this month but never transpired. That's because 19 senators skipped the meeting, meaning a quorum could not be established.
That prompted a three-day sit in on campus last week that ended after administrators agreed to activists' demands: the releasing of "a campus climate survey, the development of an African-American studies minor in the fall of 2019 and exploring the inclusion of diversity courses in the school's core curriculum," the Austin American Statesman reports.
Prior to Monday's impeachment vote, "Clegg urged senators to vote against him, saying that some senators had received threatening text messages, and that he worried for their 'safety' if they voted for him. The comment drew loud boos from the crowd," the Austin American Statesman reports.
Collin Pruett, a student at Texas State and a College Republican, told The College Fix in an interview Tuesday that he knows several conservative students who fear for their safety, as well as some student government members who told him they felt they would be in danger from peers if they did not vote to impeach Clegg.
Even Pruett, a well known conservative on campus, said he was "followed home from campus a few days ago." He said other right-leaning students have been doxxed, which means their personal contact information has been published in a malicious way.
"It's out of control," Pruett said of his school. "There's a professional infrastructure of activists here."
As for Clegg's impeachment, Pruett agreed with some observers it is a "symbolic" effort, as Clegg's term was ending anyway. While leftist activists see it as a fight against racism, however, Pruett said he and his peers see it as "an attack on conservative students."
Making matters worse, he said, the leftist students "have the backing of the administration."
As for Clegg, he seems to be taking the controversy in stride.
On Tuesday he posted on his Facebook page an image of himself modeling that iconic image of President Richard Nixon waving two peace-symbol fingers in the air after he was impeached, and also a stanza from Frank Sinatra's "My Way" song: "Yes, there were times, I'm sure you knew, when I bit off more than I could chew; through It all, when there was doubt, I ate it up and spit it out. I faced it all, and I stood tall, and did it my way."
Meanwhile, the University Star has published a "timeline" of events leading up to Clegg's impeachment.
MORE: Progressives demand ouster of white male student president
MORE: Campus paper cans 'white death' columnist amid calls for defunding
Like The College Fix on Facebook / Follow us on Twitter