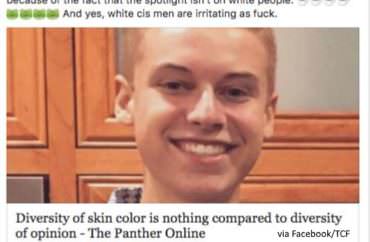 A white, male student at Chapman University has been maligned on social media after penning an op-ed for his school newspaper that argued campus diversity efforts, while seemingly offered with good intentions, actually breed radicalism and silence dissent.
Sophomore Ryan Marhoefer, a business administration major at the private university in Southern California, received major backlash in comments about the article that included calling him a white supremacist and suggesting he should be expelled or physically assaulted.
The column in question, published Oct. 15 in the The Panther campus newspaper, was headlined: "Diversity of skin color is nothing compared to diversity of opinion."
"Forced diversity, casual hatred for straight white men and ostracism of conservative blacks and gays have become commonplace," argued Marhoefer in his piece. "In the pursuit of diversity for the sake of diversity, echo chambers, which only breed radicalism, have created the perfect climate where voices can be silenced."
"Diversity can be and usually is a good thing, but forced diversity is not," he continued. "Everyone, especially colleges, should start to take political and intellectual diversity as seriously as they take the more superficial forms of diversity."

The article has been shared more than 1,200 times on Facebook as well as among students on their personal profiles, drawing dozens of furious comments. Comments under the article itself offer similar angst.
The College Fix has obtained screenshots of the comments. Among them, several called for Marhoefer to be expelled.
"He's in my class, I actually pointed out his article in discussion with the class subject. And expel him because there should not be racists (invert or subvert) on this campus, and he clearly has some supremacy in his blood," wrote one student.
"Honestly just expel him lmao. Let his parents spend tuition money elsewhere. Or let me talk to him, shoot my eyes are peeled on campus to go and educate this boy…fellow white people, please stay in your assigned lane," said another.
Others posted that he should be physically assaulted.

"IM SCREAMING. DRAG HIMMMMMM," wrote one student.
"I've heard several people describe your face as 'extremely punchable' but that's none of my business," another peer privately told Marhoefer in screenshots obtained by The College Fix.
Another commenter said he needs a "good ass whooping."
Many reactions also attempt to discredit his argument simply because he is a straight, white male.

"White cis men are irritating as f*ck," said one comment.
"I am just entirely done with men. Doubly so with white or cis men and 900% with white cis men. If they could just all have their mouths taped shut and fingers glued together that'd be wonderful," said another.
Several responders reacted by saying he's too privileged to share his opinion.

"Oh look, another column from a privileged male white dude who want to express his entitled opinion, as he's spoon fed through life by his rich wealthy parents and forever sheltered that he can't be open minded with his costly predatory education. I pity this fool and his delusions. Go enjoy your safe bubbled life, dude," said one comment.
"Ryan, while doing racist, privilege white guy shit: DON'T ALLOW PEOPLE TO TELL YOU YOU'RE RACIST AND PRIVILEGED," said another.
"I'm not going to bother to read all of this, because I can find 1000 other 'as a white man in power I feel threatened by diversity' articles in every corner of the web," said a third.
Another chimed in: "lol you should leave your parents' country club now and then."
Many people resorted to name calling, and worse.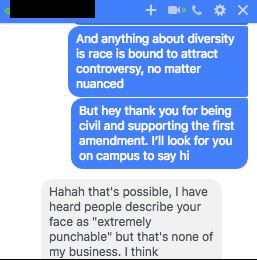 "Ryan is a c*nt," said one.
"I could vomit," added another. "How many roofies does he have in his pocket yall."
(Click here to see some of the comments.)
Marhoefer, in his piece, predicted he'd be attacked for his argument.
"Unfortunately, today, if you are not in a 'victim group' (anyone of an 'oppressed' class), then charges of racism are not far behind if you call out hypocrisy, reveal truths or especially if you call for the end of forced diversity (diversity for the sake of diversity)," he wrote. "This movement for forced diversity has attempted to dismiss and silence countless voices."
In an phone interview with The College Fix, Marhoefer said he's disappointed his peers dismissed his argument because of the color of his skin.
"The message of the article, calling for all opinions to be seen on an equal level, really went over their heads," he said. "They saw that I was a white guy and completely disregarded everything I said."
In one comment thread, however, a Latino friend of Marhoefer came to his defense, saying he personally knew Marhoefer and that he is not a white supremacist.
"I'm mature enough to be friends with someone even if we don't share the same political or religious views," he wrote. "I look past someone's ideas as long as they don't mean to harm someone. We need to stop painting people as radical monsters just because a few things they said might sound offensive."
Even with all the hate he's getting, Marhoefer said he's keeping his chin up.
"Like Roger Stone says, you wouldn't hate me if I wasn't effective," Marhoefer told The College Fix. "Even though it may have been controversial, it's been the most shared article by far. Most articles in The Panther are getting 0-2 comments and shared less than five times. This tells me that this is something people have been wanting to talk about, not what is usually published."
Jamie Altman, editor-in-chief of The Panther, commented on the situation in an email to The College Fix.
"Some students have said that we are giving him a platform and by doing so validating his opinions," Altman said. "But Ryan is representative of a political viewpoint that exists on campus, and if he wants to write a guest column about it, he has the same right as any other student."
As for the university, Marhoefer's thoughts don't appear to be the only beliefs unwelcome on campus. Back in April, students defaced busts of Ronald Reagan, Margaret Thatcher, Milton Friedman and Ayn Rand, accusing them of hate crimes, the Washington Times reported.
MORE: White male professors under fire, cited as obstacle to diversity and inclusion
Like The College Fix on Facebook / Follow us on Twitter