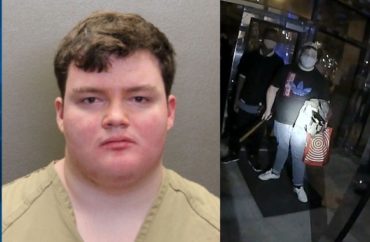 Stormed the Columbus Police Department headquarters
An Ohio State University student pleaded guilty on October 28 to obstruction of business and assaulting a police officer.
Hunter Mattin (right), who is white and 20-years-old, assaulted a Columbus Police Department officer, who is black, in April during a Black Lives Matter rally against police brutality.
Mattin struck officer Justin Coleman with a wooden club after the OSU student trespassed into the closed police building.
"We didn't break the door you f***er," Mattin can be heard screaming at Coleman. The violent student then gets upset — about Coleman not wearing a mask.
"Where's your mask, where's your mask" Mattin screams, before striking the black police officer with a wooden club.
Prosecutors originally charged Mattin with aggravated burglary according to Franklin County court documents.
Court documents from the Court of Common Pleas show that Mattin must serve one year under "community control" and if he violates any laws he can go to prison for one year.
He must maintain employment and undergo regular urine tests as a condition of his community control sentence.
Supporters of Mattin raised money for his defense in assaulting a cop.
"I am extraordinarily thankful for the outpouring of support I received this past Spring in the form of rapid crowdfunding that covered the entirety of my legal fees and positive messages and emails," Mattin said, according to The Lantern.
His fellow activists entered the police building by using "bolt cutters," according to a local Fox affiliate.
Mattin studied public policy at OSU, according to The Lantern. He plans to return this Spring to campus.
A tweet from the Mock Trial club at OSU shows that Mattin participated in the group and was an "outstanding witness."
MORE: Check out the cancel culture database
IMAGE: Columbus Police Department
Like The College Fix on Facebook / Follow us on Twitter