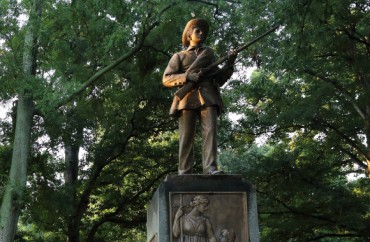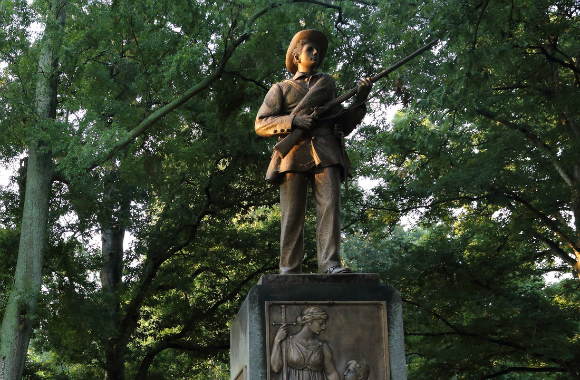 Just another pretext for a failed protest effort?
Protesters in and around the University of North Carolina have been demanding the removal of the Confederate statue known as "Silent Sam" for years.
It's been vandalized and was likely the target of an incendiary device that sent a professor to the hospital. They've said it's an illegal "threat to the safety of people of color."
Now they are using another pretext to demand the statue's removal: a fictional white supremacist group.
The Daily Tar Heel reports that an "anti-fascist" rally broke out Wednesday in response to "rumors" that white supremacists would hold their own rally. The latter did not show up.
MORE: Dubious legal basis for removing Silent Sam
The paper claimed that "multiple UNC staff members" received an email Feb. 16 promising a rally by the "Kook Kekistani Kids" and Identity Evropa if UNC didn't investigate a professor who brought a rifle to the Charlottesville riots last summer, Dwayne Dixon.
The News & Observer, however, quoted Dixon as saying he received the email that day. Then Dixon quoted from the alleged email in a faculty listserv message. According to earlier listserv messages, Dixon was "pushed and restrained" a week earlier by two individuals who confronted and chased him while trying to goad him into physically attacking them while recording him.
While administrators warned deans and department chairs about the rumored white supremacist rally, no time for it was given. Then a student activist notified the media that students would be holding a "counterprotest" at 2 p.m. in front of Chancellor Carol Folt's building.
When the feared white supremacists didn't show up, the counterprotest quickly turned into an anti-Sam protest. According to the Daily:
"Our chancellor must protect our safety, not a Confederate monument," said Altha Cravey, associate professor of geography. "UNC is not a brand for wealthy people to profit from."

Many of the rally's speakers and attendees used the phrase "do it like Durham," referencing protesters who tore down a Confederate statue in Durham in August of 2017. As the rally closed with a march to the base of Silent Sam, the chant indicated rising tensions from people at the University who want to see the monument removed.
MORE: Silent Sam vandalized again
The News & Observer reported that protesters carried signs with slogans including "Destroy white supremacy":
Some wore hats that said, "Do It Like Durham," a reference to protesters who tore down a Confederate statue in downtown Durham last year. Charges were dismissed this week against the Durham protesters.

"This is our campus and we're not going to let fascists have any of it," said Liam Kelly, a 21-year-old student from Charlotte and a member of the Young Democratic Socialists of America.

A graduate student in history, Tony Rossodivito, said there was a growing threat of hate groups that target college campuses. He urged protesters to throw racist fliers in the trash. "Fascism is violence, plain and simple," he said.
Read the Daily Tar Heel and earlier and later News & Observer articles.
MORE: Incendiary device near Silent Sam sends prof to hospital
IMAGE: Don McCullough/Flickr
Like The College Fix on Facebook / Follow us on Twitter