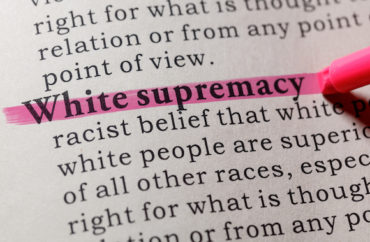 'A bunch of white people arguing over whether they're racist'
One of the premier medieval studies groups in the country is purportedly being torn apart at the seams due to its alleged sympathies to white supremacy.
The group—known as the International Society of Anglo-Saxonists—has been hit with a succession of resignations from members who claim the organization promotes and supports racism. The Washington Post reports that the growing exodus was started by the resignation of the group's second vice president, Mary Rambaran-Olm, a woman of color who claims to have experienced years of discrimination in the field of medieval studies.
Rambaran-Olm said she tried to "reform" the organization after becoming its vice president. One of the ways she attempted to do that was to push for a change to the group's name. The term "Anglo-Saxon" has been adopted by white supremacists in recent years to describe a fabled European history involving a dominant and superior white race.
For two years, "every change" that Rambaran-Olm proposed met with failure, she said, after which she decided to resign. But according to others, the group's name isn't its only problem:
It was never just about a name, said Eileen Fradenburg Joy, a scholar in the field and a former ISAS member.

"The entire field of medieval studies is undergoing massive upheaval because they have not dealt with long-standing issues of racism and sexism," Joy said. "This name change controversy is sowing the fault lines that still exist between white scholars — because it's all white people, a bunch of white people arguing over whether they're racist."
The organization did vote recently to change its name, though Rambaran-Olm "has no wish to rejoin the group, she said, no matter what it's called."
MORE: Medieval Studies scholars deem field too white
IMAGE: Feng Yu / Shutterstock.com
Like The College Fix on Facebook / Follow us on Twitter