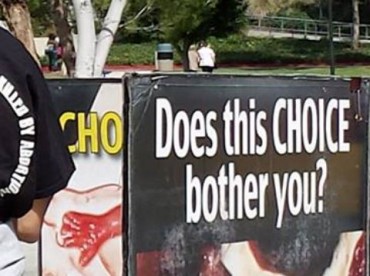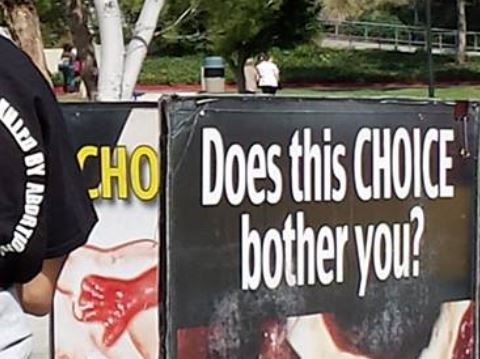 OPINION
Boise State University was sued recently for requiring prolife students to use warning signs when they protest abortion on campus with graphic images of aborted babies.
You know the ones – they are not easy to look at. They are real photos of murdered children, and they look like just that: blood, dismembered parts, lifeless faces.
Why would we use such images? We do so because those horrific photos so many prolifers use, including myself, are effective.
Women going into clinics have stopped in their tracks upon seeing the images and changed their minds. Many have later told pro-life workers that the disturbing pictures portraying the truth about abortion were the sole thing that convinced them to turn around and have their babies.
I have heard the argument (from people on both sides) that the graphic pictures are counterproductive because they make people angry at us and harden them even more.
Certainly, they make many people furious. One time a young college student even came up to my group and started crying and yelling at us, claiming that she had been raped and had had an abortion.
Many have heard of the feminist studies professor at UC Santa Barbara who stormed off with a teenage prolifer's sign last semester. I was among that group of prolife protesters on campus that day, and we dared to hold graphic signs showing what abortion is, causing the professor to throw herself into, literally, a rage.
It is not the photos that upset them, though (after all, it is not a baby, remember?).
The hard truth of abortion thrust in front of them is what sets people off. The photos do not harden people against the pro-life cause; they only give them a run for their money…and deeply unsettle them.
That said, I do think that whenever possible children and post-abortive women should be spared seeing the images.
I am part of an independent group that operates similarly to Survivors of the Abortion Holocaust, and often we just reach out and talk to women, give them a pamphlet, and tell them about nearby pregnancy centers.
This is a gentler way to approach these women and dispenses with a lot of the stress that inevitably accompanies seeing the pictures. If it works, great. If not, maybe they need to see a bit more.
As far as trigger warnings, if all they accomplish is helping to steel people before they see the photos, the warnings are acceptable. However, they may do more harm than good if they truly ward people off. The ones I have seen have not been particularly effective at deterring people. Do people really have that kind of self-control over their curiosity?
It really comes down to the bottom line that you usually just cannot predict who will happen to see the photos. The bad consequences of NOT shaking people awake in this way are so much scarier than any bad effects that showing the reality of abortion will have on those who are not ready to see it.
That is why the lawsuit against Boise State is important: it is about free speech. It is about our right to tell the truth, hard as that may be.
The suit was filed by the conservative law firm Alliance Defending Freedom, which stated in announcing its litigation that "university policies that suppress free speech are completely at odds with what a university is: a marketplace of ideas."
"Free speech should not be limited to a tiny area on campus, nor should students be told their speech needs a warning sign simply because university officials think their views are 'controversial.'"
Meanwhile, the law firm points out that "Boise State University has allowed other groups to host events without warning signs, including Planned Parenthood, which distributed condoms on campus, and the Secular Student Alliance, which distributed 'Does God Exist?' fliers in open spaces on campus."
If ruled in favor of Boise State, the suit sets a looming precedent that could lead to more and more restrictions on free speech, especially that which aims to speak an extremely hard truth, as prolifers do.
It's a dangerous and slippery slope when we allow campus administrators to decide what's "controversial " and what's not, or what is protected free speech and what deserves qualifications.
My peers and I are fighting for the freedom to speak the truth, whether people like it or not. Freedom to be lied to and remain ignorant is not freedom. We are fighting for the heart and soul of this nation.
Mairead McArdle is a student at Thomas Aquinas College.
Like The College Fix on Facebook / Follow us on Twitter
IMAGE:  Survivors of the Abortion Holocaust screenshot/Facebook