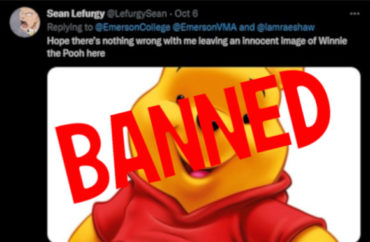 Last week, The College Fix reported on an incident at Emerson College in which students handing out stickers critical of the Chinese Communist Party were threatened with suspension and expulsion.
Calling the stickers "anti-Chinese messaging" that is "inconsistent with the College's values and will not be tolerated on our campus," Interim Emerson President William Gilligan said it was "important to denounce all instances of anti-Asian bigotry and hate, and affirm our support and solidarity with the Asian and Asian-American community on campuses and around the world."
But over the past weekend, Emerson seemed to be showing more solidarity with the CCP than its own students.
On one Emerson Twitter post promoting a film called "Black Kung Fu Chick" by faculty member Rae Shaw, some Twitter users began replying posting photos of Winnie the Pooh to mock the school's position on China.
The joke goes back to 2018, when China banned a movie featuring the beloved honey-loving bear. Chinese residents had been mocking President Xi Jinping by saying he looked like Pooh, a practice that began back in 2013 when someone noticed a photo of Xi walking with U.S. President Barack Obama and remarked that it looked like Pooh walking with Tigger.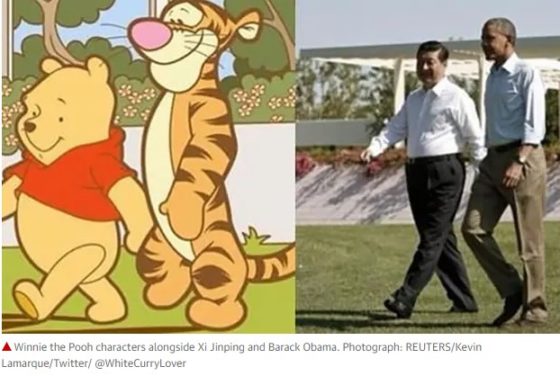 But Emerson's social media team appears not to be amused. Using a feature that allows users to hide replies to their tweets, Emerson began muting Pooh-related replies on their tweets.
The vanishing replies were first noticed by the Foundation for Individual Rights in Education's Sarah McLaughlin, who noted: "Just want to reiterate that a U.S. college has been spending its day hiding Winnie the Pooh gifs, which are used to mock Xi Jinping, in its replies. After launching an investigation into a student group handing out stickers criticizing China's government."
Wow. Emerson College—which is investigating a student group for stickers critical of China's government—is hiding tweet replies that mention China. *Including ones that only show Winnie the Pooh, which is censored in China because people mockingly compare him to Xi Jinping.* https://t.co/PhwjFwnOHo pic.twitter.com/q0A6dgUF2s

— Sarah McLaughlin (@sarahemclaugh) October 7, 2021
At some point, the school decided to stop hiding the replies, as some are now viewable without navigating to the secret replies section.
But it appears the school is more intent on protecting the feelings of Xi Jinping than it is the Asian-American students on its campus.
In fact, Emerson's history of protecting pro-democracy Chinese students on its own campus is less than stellar. In 2019, student Frances Hui talked to the New York Times about how she was bullied and threatened on campus by anti-Hong Kong demonstrators. One protester posted a column Hui had written titled ""I Am From Hong Kong, Not China," and responded to with with a Facebook comment that said, "Whomever opposes my greatest China, no matter how far they are, must be executed."
Hui said when she asked Emerson administrators to condemn the threats against her, she received no answer.
"I understand that the school doesn't want to take a political stance," Hui told the Times. "But you certainly shouldn't stand for students who make threatening statements and hateful comments."
Instead, the school told administrators they needed to have "global competency" in order to avoid angering China, as one NBA executive had done earlier in the year. When then-Houston Rockets General Manager Daryl Morey tweeted in support of the pro-democracy Hong Kong protesters, the league immediately went in to damage control, trying to protect its profits in China. Commissioner Adam Silver even said China had asked him to fire Morey.
Now, Emerson College itself is acting like the NBA, trying to censor voices critical of the genocide of Muslims by the Chinese government. The school isn't trying to protect Asian students, it is protecting the powerful Chinese government that is engaging in human rights abuses. And they are going to silence any criticism of the Chinese regime one honey-loving bear at a time.
MORE: Emerson College investigates conservative group that handed out anti-Chinese government stickers
IMAGE: Twitter
Like The College Fix on Facebook / Follow us on Twitter