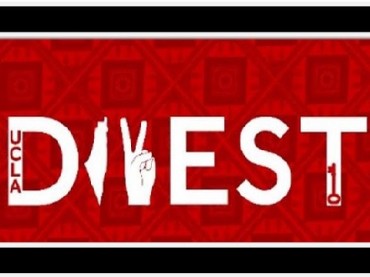 ANALYSIS
UCLA's student government has passed a controversial resolution that calls on the university to divest from companies that allegedly contribute to and profit from so-called human rights violations in the West Bank and Gaza Strip – but don't take that as a legitimate decision, or representative of the UCLA student body.
The measure successfully passed by a 8-2-2 margin Tuesday night, and Students for Justice in Palestine is already touting it "as a chance to help other communities use this tool as an avenue to attain more political agency," according to an email it sent supporters Wednesday morning.
"The organization sees this vote as laying a principled foundation from which students from myriad backgrounds can continue to educate and organize in support of not just Palestinian rights but all causes of social justice," the email added.
This "social justice" coalition is precisely why the measure passed by such a wide margin, despite student body uproar. Certain members of the council, who were obviously connected to certain student groups, voted in favor of the resolution in support of social justice advocacy, claiming to relate to the Israeli-Palestinian conflict because of their identities as women, people of color, and people of lower socioeconomic status.
The irony lies in the fact that Israel is the only source of "social justice" in the Middle East. Only in Israel are women accorded equal rights as men. Only in Israel are political dissenters allowed to voice their opinion, even if that opinion questions Israel's right to exist. In Palestine, homosexuality is punishable by death, and police have been repeatedly accused of using brutal force. It is clear that the side the council chose to stand with was not the side of progress or "social justice."
Last year, when Students for Justice in Palestine and other student groups tried to pass a similar divestment resolution, it caused such an uproar that after a nearly 12 hour, all-night student council meeting, where hundreds came to give public comments, the resolution failed in a close 7 to 5 vote.
So the activists learned from that, and regrouped. For one, they shut out the public and most media at Tuesday's vote. Secondly, they expanded the resolution to include more companies to divest from, including Boeing, GE, Caterpillar, and Cemex.
But for those who were allowed inside before Tuesday's vote, there was a robust debate. During the hearing, which lasted well into the night, representatives from student organizations such as Bruin Feminists for Equality and the Afrikaan Student Union demanded the measure be passed.
Other students, including former Bruin Republican President William Chakar, questioned even the idea of the council taking a stand on such a divisive and international issue.
"It is inappropriate for a student council to decide on an issue that is clearly far out of the scope of any councilmember's office and duties," Chakar said.
Student government President Avinoam Baral, an Israeli citizen, who was prevented from voting due to the constitutional fact that presidents only can break ties, said in a tearful statement before the vote that: "Israel is what is right about the Middle-East. … Do not ever, ever frame this conflict as an indigenous versus a non-indigenous person, because when your frame the issue that way, you are saying that I do not actually matter, that I do not have a place in my homeland."
So the resolution passed, but student opinion is still divided.
Many students, like Shantal Razban-Nia, the Outreach Director for Bruin Republicans, believe that Israel's security must be taken into consideration when evaluating Israeli actions: "Palestinians have often been the aggressors in their wars with Israel and I think Israel has a right to defend itself. I saw a missile detonating in mid-air when I was on a Beach in Tel-Aviv," she said in an email to The College Fix.
Even in the face of such a conflict of opinion, the council moved forward with this resolution, effectively taking a stand in support of Palestine in the Israeli-Palestinian conflict.
The move is mainly symbolic, as truly divesting from the companies would require major changes in the state pension system, and such changes could only happen through the University of California Regents.
But some Bruins have had enough of the political agenda entrenched in their student government.
This year, Bruins for Israel called it like they see it, creating a campaign called "Students First" that calls on the student government to "refocuses itself to address relevant student issues rather than wasting time and money."
"This foreign policy resolution reflects a gross disregard for the appropriate scope of student government, which is supported by student body fees and the California taxpayers' money," the group's petition adds.
By taking a stance on a complex, geopolitical issue the council has done many things.
It has marginalized a portion of the student body. It has glazed over the killing of five Israelis in a temple yesterday. It has pompously stated, in the face of years of international negotiations, that it knows the answer to a foreign policy question that has confounded experts for decades. It has judged that Israel's right to defend itself is illegitimate. It has shamed American companies for choosing to sell supplies to one of America's closest allies. And finally, it has divested not only from Israel, but also from its own relevance.
College Fix reporter Jacob Kohlhepp is a student at UCLA and vice president of the Bruin Republicans.
Like The College Fix on Facebook / Follow us on Twitter
Like The College Fix on Facebook / Follow us on Twitter