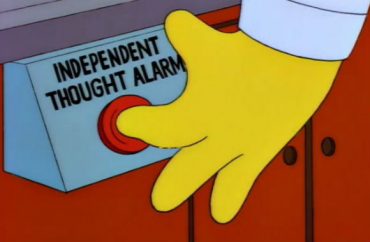 Avoid speakers who do not have 'academic value'
Black student activists at Williams College are no shrinking violets. They took over a recent student government meeting, unloading a string of vulgarities against elected student leaders for allegedly favoring white students with more funding than black students get.
They used anti-gay and even anti-black language, if you can believe it: "to be here [at Williams] is like sucking white dick every fucking day." "We want some money to fucking cook some fried fucking chicken and be niggers."
This was live-streamed, by the way.
A committee created by President Maud Mandel last fall, whose mission is to make Williams College "both intellectually open and inclusive," plans to tell students: Try not to offend these people.
MORE: Black students explode at white students in vulgarity-laced rant (VIDEO)
Prof. Jana Sawicki, chair of the committee, told Inside Higher Ed that it plans to release its recommendations in about a month. They will focus on persuading, not ordering, student groups to avoid controversial speakers:
The goal is to not restrict who can speak on campus but to prompt the students who invite those guests to consider whether they have academic value and whether individual speakers' views would offend minority students or make them feel harmed, she said, adding that speakers brought on campus by student groups are generally the most controversial.

One idea the committee floated was involving faculty advisers to student clubs in more of the discussions about which speakers to invite to the campus, Sawicki said. If a student group wanted to host a controversial speaker, the adviser could talk with the club members about whether they'd thought through how the speaker's views would affect their peers, she said. The advisers, who currently are not involved in club operations, would never stop the students from hosting a speaker they wanted, Sawicki said.
This proposal–from a professor who's chairing the college's "committee on free speech"–is particularly troubling: mandatory use (a likely one-sided form) of peer pressure to discourage student groups from inviting speakers w/views violating an ill-defined feelings-related code. pic.twitter.com/Y6Xdq7CMea

— KC Johnson (@kcjohnson9) April 24, 2019
The committee's creation followed the alarm among some faculty about the explicit intolerance of students toward unpopular viewpoints.
They openly cheered for a visiting speaker, the author and religion scholar Reza Aslan, who called on Williams to ban campus talks that were not "factual" and that offended people like him, Prof. Luana Maroja wrote in a blog post.
When she and some colleagues met to discuss convincing the administration to adopt the University of Chicago's principles on freedom of expression, student activists crashed the meeting and told white male professors to shut up and apologize for their "privilege," she said.
MORE: Williams College, the next Evergreen State?
IMAGE: Frinkiac.com
Like The College Fix on Facebook / Follow us on Twitter