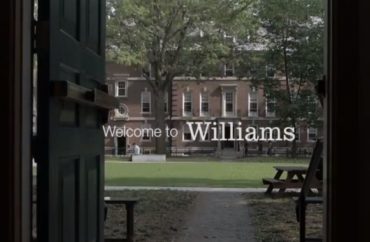 UPDATED
A recent Williams College student government meeting was disrupted by several black-activist students who yelled at the group for what they said they perceived as a lack of respect from their white peers, with one student saying "to be here is like sucking white d*** every f***ing day."
"See when black people try to create space on this campus … it's always a f***ing problem," a black male student told the College Council on April 9 in a rant that was live streamed on Facebook from the student government's Facebook page.
At issue was a funding request from members of the Black Student Union to host a "Black Previews" barbecue for prospective students that was not immediately approved by the student government.
"… I'm looking at the budget that we're seeing and we're approving here, and I see all the ways in which white men constantly get spaces and affinity and money and resources afforded to them. And every time we try to create a space in order to … create some form of community we get stopped at every single level," the student continued.
" … It's time for you'all to figure this sh*t out and check yourself because I'm really losing it," he said. "We are f***ing tired of having to come and beg and suck d***. And of course when we come and do it we face problems all the f***ing time."
"… Every time to be here is like sucking white d*** every f***ing day," he said. "Closing our mouths every f***ing day just to be here. And if we dare ask for a little bit of time, money and space we gotta suck some more d***. … It is so frustrating. It's so tiring … to be here. To deal with you'all."
"We keep our heads down, it don't work," he said. "We try to create space for us, it don't work. We want some money to f***ing cook some fried f***king chicken and be n*****s for once, it don't work. I just don't get it."
Williams College, founded in 1793, is located in a rural part of Massachusetts and has a reputation as being a preppy, country-clubish university. Annual tuition is $57,000, not including room and board.
Prior to the students crashing the meeting, the student government had debated funding the "Black Previews" event.
Apparently that request had prompted a debate among student government officials over several concerns, including ensuring the event would be open to all, that it did not conflict with other administrative events on the already-established previews calendar, and whether administration or the College Council was the correct body to fund the event, according to comments made during the live stream.
Ultimately the funding was unanimously approved by the council. But about 15 minutes later several black-activist students entered the room, and that is when the shouting began.
They voiced anger and resentment at the council for roughly 15 minutes in language filled with expletives over the funding issue as well as claims that attending the school feels oppressive, that they feel like token African-Americans there so the school can check off its diversity box.
John Drew, a former professor at Williams, transcribed much of the comments on his blog. In his post, Drew said watching the video felt eerily similar to another college meltdown that gained national attention in recent years: "It is an excellent example of the sort of political abuse that tore down Evergreen State College."
Watch the video (the shouting begins at 45:00)
The student went on to address free speech on campus, stating: "You want to have free speech, you want to have a debate, you want to stop and be racist. Say some s*** now! Open up your mouth now! Say something!"
The student government members remained largely silent during the tirade. At one point the students called out a white male student government member who had been looking down at his notepad as they spoke. Drew chronicled this as well:
… During much of the anti-white rant, he appears to be looking down, working on something. He looks surprised to be called out. … Nevertheless, he spends the rest of the time looking right at the speaker. Personally, this is the ugliest part of the video. What we are seeing is controlling behavior. Apparently, at least two people in the room think that [the white student] should at least feign interest in the anti-white bigotry being directed at him. If you have ever been around a domestic abuser, you will quickly recognize this controlling behavior for the abuse it is. No one should be forced or shamed into listening to verbal abuse. No one.
The College Fix attempted to reach several members of the College Council as well as administration for a statement. They have yet to respond.
Black Previews did end up taking place this week, according to the Williams Record campus newspaper.
"Creating Black community is beautiful, but always threatening to institutions of power," one student organizer told the Record. "But it always gets created because it's necessary. Black community helps us survive predatory violence."
The Record also reports that the student government will be undergoing "anti-bias training," adding that funding requests from black students tend to get more debate among student government members.
In an email statement to The College Fix, Drew added to his assessment by saying that the "attack took place in the context of faculty led efforts to bring the Chicago principles to campus. These are common sense principles meant to maintain freedom of speech and freedom of expression on college campuses."
"In this all or nothing environment there is no safety. Without safety there is no learning. If there is no learning, there is no reason for a parent to send their kid to Williams."
The incident follows several weeks of contentious debate over race on campus. Last February, the campus was rocked by the news that two "black queer feminist" professors opted to leave campus, citing the college's "violent practices" upon their departure. This left enrolled students without a professor. These practices have yet to be corroborated.
Editor's note: This article has been updated to add a video of the student government meeting from YouTube after the live stream recording of it was removed April 21 from the student government's Facebook page.  
MORE: Williams College holds 'Processing Whiteness' sessions for faculty, staff
IMAGE: YouTube screenshot
Like The College Fix on Facebook / Follow us on Twitter