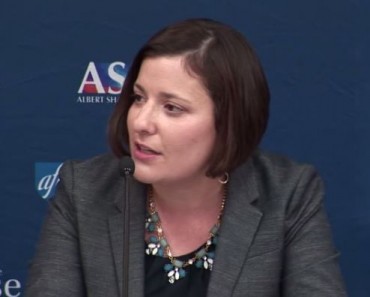 Shocking new allegations emerged Wednesday against the University of Wisconsin-Madison professor who tweeted that Scott Walker and Adolf Hitler share "terrifying" similarities.
The University of Wisconsin Madison College Republicans put out a press release alleging that sociology Professor Sara Goldrick-Rab also tweeted at incoming freshmen who support Scott Walker, antagonizing them about the Republican governor's budget cuts to the University of Wisconsin system.
"The College Republicans of UW-Madison call on the University of Wisconsin-Madison to address the harassment of these future Badgers on Twitter who were doing nothing but showing their excitement for attending this university," the group's chairman, Anthony Birch, stated on its Facebook page. "Professor Sara Goldrick-Rab: We find the way you have approached the dialogue around the intersection of politics and our university's future disgusting and repulsive."
Specifically, the group alleges that on June 6, "an excited recent high school graduate tweeted a picture of himself and his friends making the Wisconsin 'W' with their hands."
"Professor Goldrick-Rab proceeded to cross all boundaries of professionalism and respect by seeking these recent graduates out on Twitter and proceeding to harass them with articles intended to lobby and persuade them not to attend the University of Wisconsin-Madison because 'we don't want students 2 waste their $' and 'I thought you want a degree of value,'" the release states.
"She proceeded to inform them that 'if this thing goes through, we are all leaving, no joke,' regarding the recent Republican budget and its changes to the University of Wisconsin system."
Like The College Fix on Facebook / Follow us on Twitter
IMAGE: YouTube screenshot