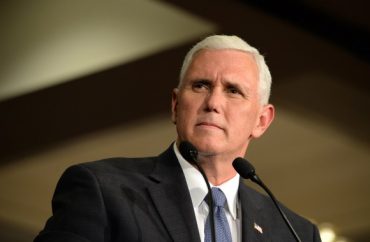 Decision also comes after Pence's invitation drew criticism, called 'ignorant and deceptive' by protesters 
Wisconsin Lutheran College on Thursday announced that Vice President Mike Pence has been removed as its keynote speaker for Saturday's commencement ceremonies.
Its leaders made the announcement "after further review with careful consideration of the escalating events in Kenosha," according to a statement posted on the college's website.
Instead, the college replaced Pence with Rev. Mark Jeske, who leads a Lutheran church.
The campus is located in Milwaukee, about an hour drive from Kenosha, the epicenter of nightly protests and rioting that launched after police shot a black man seven times in the back on Sunday after responding to a domestic disturbance call.
Two people have been killed and another injured since the unrest began. Numerous businesses have also been destroyed by fire and vandalism.
The college's 77-word statement did not explain further the rationale for its decision in terms of whether it was an ideological one or based on safety.
But according to the Milwaukee Journal Sentinel, "Pence's appearance had already caused some controversy":
When the college announced it last week, it said the selection was not an endorsement of a political party and "cannot" be viewed as a political event.

"We believe it is possible within our context to leave partisan politics at the door and to celebrate America, our freedoms, Christian servant leadership and our graduates' immense accomplishments," the statement said.

But more than 100 students and alumni signed a letter calling the invitation "blatantly inappropriate."

"The mere invitation of a Vice President of an incredibly divisive and controversial ticket to speak in a swing state months before an election is ignorant and deceptive," the letter said. "Speaking to young adults months before an election is a political move and not one that WLC can decide is apolitical." …

Though not an official campaign stop, the speech would have brought Pence to Wisconsin days after the Republican National Convention, where the vice president touted "law and order." Wisconsin is a key state the Republicans are trying to hold on to this November.
The Associated Press reports "Pence was scheduled to deliver his speech outside at the private college, which has about 1,200 students and is about 40 miles from Kenosha. More than 270 students and alumni signed an open letter posted online objecting to the visit, which was announced prior to the violence in Kenosha."
Pence, during his vice presidential nomination acceptance speech on Wednesday, had condemned the violence in Kenosha and elsewhere:
… let me be clear. The violence must stop, whether in Minneapolis, Portland or Kenosha, too many heroes have died defending our freedom to see Americans strike each other down. We will have law and order on the streets of this country for every American of every race and creed and color.

President Trump and I know that the men and women who put on the uniform of law enforcement are the best of us. Every day, when they walk out that door, they consider our lives more important than their own.
In a statement to the Sentinel, the vice president's spokesman said Pence "understands and supports Wisconsin Lutheran College's decision to prioritize the safety and well-being of their students, and wishes the students well as they celebrate the accomplishment of graduating from college and as they embark on their next journey."
MORE: Teacher allegedly tells class VP Mike Pence should be 'shot in the head'
IMAGE: Shutterstock
Like The College Fix on Facebook / Follow us on Twitter