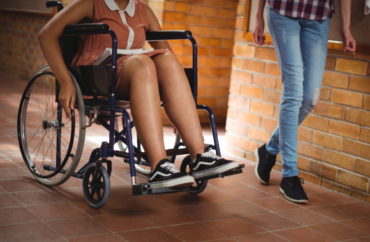 Disability law professor encourages schools to remember all students
University officials may be working hard to create detailed contingency plans for coronavirus, including setting up quarantine rooms and preparing for a hybrid model of learning. But in the process, some are failing to ensure that students with disabilities are being properly served.
For example, the University of Illinois' flagship Urbana-Champaign campus recently eliminated a dedicated floor in a residence hall on campus for students with disabilities. It was part of a school program that "helped anyone with physical disabilities who require assistance with basic activities of daily living," according to the local Fox affiliate.
The public university cut the Beckwith Residential Support Services program in July because it claimed it did not have enough personal assistants to provide 24/7 care, according to the Daily Illini, a student paper.
However, one graduate student led an effort to find personal assistants for the students, according to the paper.
Other students and families have worked to secure more personal assistants, according to the local CBS News affiliate. One parent claims they have secured coverage for 90 percent of the time.
It's not the only way that schools are failing students. The University of Minnesota failed some students with disabilities when it didn't properly plan for a move to online classes, according to the Minnesota Daily, the campus paper.
The paper reported in June of one example of a professor who emailed the entire class to ask about disability accommodations for individual students, alerting the entire class to student's individual disabilities.
MORE: Judge approves disabled veteran's lawsuit against school for anti-male bias
It's examples like these that raise concerns under disability law according to Mark Weber, a professor at DePaul University's law school who often teaches on subjects such as disability rights and special education.
"The minimum the federal disability discrimination law requires is that the program as a whole be readily accessible to people with disabilities," Weber said via email to The College Fix. But universities should go beyond the minimum "to live up to their own principles and to provide a welcoming, inclusive environment that promotes diversity for the benefit of everyone."
He said "it is important to remember that students who have disabilities must be considered in all of the university's planning and execution of its programs."
Online classes can benefit students with disabilities Weber said. Online instruction allows students to "access recordings of classes and being able to learn in a distraction-free environment," Weber said.
Remote testing does not have to be detrimental for students with disabilities. The Minnesota Daily reported that taking a test remotely was easier for some students who were self-conscious about their disabilities.
"It's this weird push and pull: On one hand, there are a lot of people with disabilities that would rather see the screen usage totally go away, but there are others who want it to continue forever," one disability rights student activist told the Minnesota Daily in June.
However another student, who suffers from anxiety and panic attacks, found himself outed after having to take a test live and online.
The Minnesota Daily reported that the student usually can take tests alone or with the help of a teaching assistant. When he signed on for a test, other students could see him. He said it felt like a "violation of his accommodations," according to the student paper.
As students return to campus, campus officials should make sure to include all students in their planning.
MORE: School district calls cops on 6-year-old disabled girl for 'finger gun' gesture
IMAGE: Wave Break Media / Shutterstock
Like The College Fix on Facebook / Follow us on Twitter