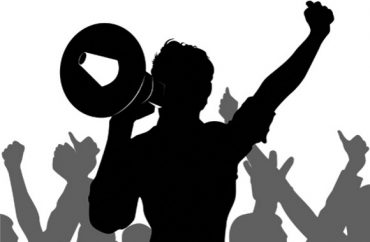 Given the efforts of far-left protesters to shout down and/or outright prevent the appearance of conservative speakers when they (attempt to) show up on campus, two Wisconsin Republican lawmakers introduced a bill Wednesday designed to "facilitate free speech."
Representative Jesse Kremer's and Speaker Robin Vos's "Campus Free Speech Act" references the "University of Chicago's 2015 'Committee on Freedom of Expression' and Yale's 1974 'Committee on Free Expression' findings" according to a written statement by the former.
Kremer's statement also notes:
In recent decades, attacks on free expression have become commonplace and in-vogue at institutions where ideals and truths should be challenged – the American university. This most recent degradation has been at the behest of the leftist elite who promote their own progressive, opinionated beliefs as gospel while touting a bumper sticker slogan of 'coexist'. Ironically, free expression that has been removed from the college public square in an attempt to shield young, apparently fragile, yet critically thinking adults as offensive, has by its very nature become offensive. Attempts to stifle certain types of expression through designated 'Free Speech Zones' or 'Bias Response Protocols' insult the very intelligence of all college students and demean the academic community as a whole.
The bill would require the Board of Regents to "implement a system wide policy" which ensures campuses do not "shield students from free expression," are "open to any invited speaker," and prevent protests that "interfere with the right to engage in or listen to expressive activity."
Student demonstrators who do prevent "expressive activities" could face expulsion.
The Daily Cardinal, however, points out the University of Wisconsin system already has policies "that ensure institutions maintain order and discipline students who violate standards of conduct."
UW Madison spokesperson John Lucas said "We urge the Legislature to work with the Board of Regents to identify policies that will address the free exchange of ideas and need for order, while respecting the existing student conduct process that has served institutions well for many years."
Ricardo Cortez de la Cruz II, who helped coordinate campus protests against Ben Shapiro and Steve Forbes, said "I think if the university already has a code of conduct and [I haven't] been in trouble for it, I think that kind of says a lot on its own.
"What we're doing is not as disruptive as the white right would make it to be. If it was, I'm sure a lot of us would be facing a penalty."
Or, of course, college administrators conveniently looked the other way while de la Cruz and his cohorts were up to their disruptive antics.
Read the full Daily Cardinal article.
MORE: North Carolina bill would punish students who interfere with free speech
MORE: Students could more easily sue colleges for squelching their speech under Texas bill
Like The College Fix on Facebook / Follow us on Twitter
IMAGE: Shutterstock