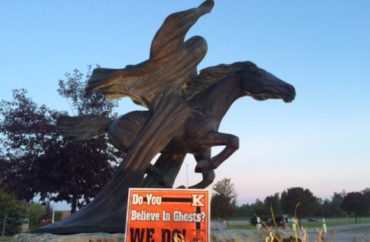 Six Wisconsin high school students have lobbied their school board to have a statue of their high school's mascot removed, saying it conjures images of the Ku Klux Klan.
The "Galloping Ghost" statue, which features a ghost covered in a sheet riding a horse, was erected at Kaukauna High School in 2000.
Concerns about the statue's resemblance to a Klan member were voiced even before its completion. Artist Jim Hopfensperger, who designed the statue for $100,000, made one change to eliminate a bump on the ghost's head which made it resemble a member of the KKK.
"As far as I'm concerned, it's a galloping ghost. I mean, how far do we throw this political correctness thing?" said Hopfensperger in 2000. He died in 2019.
"Sure, history can be explained, but first impressions are always most important, so the first impression of the Kaukauna High School should be that of the accepting and welcoming community that it truly is," one student wrote in a letter to the school board.
Another student, who said they identify as a minority, says leaving the statue up doesn't effectively communicate that hate isn't tolerated.
"I am proud to be from Kaukauna; however, the only thing that hinders that pride is the statue and the perception of it," another student wrote.
The students' statements were provided to the Appleton Post-Crescent, who obtained them through an open records law request. The students' names were redacted to protect their identities.
According to the Post-Crescent, the "Galloping Ghost" nickname has two potential origins, neither of which have any racial history.
One story dating from the early 1920s reports that a coach for the school's football team said the players, dressed in all white, looked like "galloping ghosts" as they ran over the team from Appleton.
Another story suspects a coach told his players to emulate pro football hall of famer Red Grange of the Chicago Bears, whose nickname was the "Galloping Ghost."
School district Superintendent Mark Duerwaechter has outlined three potential options for the statue: Leave it as it is, adorn it with a sign that says "Welcome to the Home of the Galloping Ghost," or relocate it away from the front of the school.
The school has said it will make a decision on the fate of the statue by the end of June.
Read more here.
IMAGE: Kaukauna High School/Twitter
Like The College Fix on Facebook / Follow us on Twitter