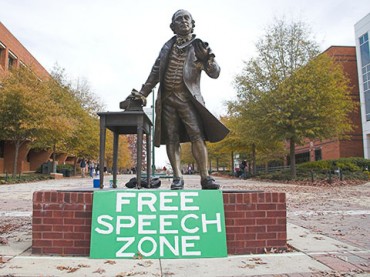 2015 is off to a promising start for the Foundation for Individual Rights in Education, following a year of progress in paring back campus speech codes.
A student originally represented by the civil-liberties group has finally won his right to a First Amendment trial against the college president who got him kicked out of school – for posting a collage on Facebook.
The 11th U.S. Circuit Court of Appeals ruled Monday that Ronald Zaccari, president of Valdosta State University in Georgia, can be personally sued for retaliating against Hayden Barnes all the way back in 2007.
The student had waged a sustained environmental protest against proposed school parking garages, posting a collage on Facebook among other methods. Zaccari said Barnes' protest collage was a "threatening document" and had him designated a "clear and present danger" to the school.
The ruling puts college administrators on notice that they could be personally liable for hundreds of thousands of dollars in damages, FIRE said in a press release. Barnes won a $50,000 judgment against the school last year for due-process violations.
'Blueprint' by the feds encourages broad harassment codes
FIRE's annual report on campus speech codes – "university regulations prohibiting expression that would be constitutionally in society at large" – found an overall reduction for the seventh year in a row.
Though 55 percent of the 437 schools surveyed have "red light" policies that clearly and substantially prohibit protected speech, that's down from 59 percent in 2013, FIRE said last month.
The reduction has been far from uniform, however. In Missouri, more than 85 percent of schools surveyed received a red-light rating, compared to 31 percent in Virginia and 25 percent in Indiana. Virginia became the first state to entirely ditch free speech zones in 2014, making all outdoor areas of campus "public forums," as The College Fix reported.
Several anecdotes stand out in the report: Two Lewis and Clark College students, one black and one white, were charged with harassment for exchanging some racially themed inside jokes at a party. A Bergen Community College professor was placed on leave and ordered to meet with a psychiatrist for a Facebook post of his daughter wearing a Game of Thrones T-shirt that read "I will take what is mine with fire & blood."
The decline in speech codes was offset by schools adopting broader sexual harassment policies in response to pressure from the departments of Education and Justice, FIRE said.
Based on the "blueprint" agreement with the University of Montana in 2013, the departments had urged schools to define sexual harassment as "any unwelcome conduct of a sexual nature," including speech.
Though the Department of Education's Office for Civil Rights has backed away from the term "blueprint," telling FIRE that the document was "not OCR or DOJ policy," it has not communicated that to schools, the report said. Pennsylvania State University, Georgia Southern University and the University of Connecticut, among others, broadened their definitions of sexual harassment in 2014 in line with the blueprint.
The "increasing intervention by the federal government into college's sexual harassment policies is one of the biggest threats to free speech on campus today," Samantha Harris, FIRE's director of policy research, told The Fix. She expects this "trend to continue if OCR does not clarify to schools that sexual harassment is an extremely narrow category of behavior that does not include constitutionally protected expression."
It's not just school administrators that are the problem – "students themselves are the greatest threat to free speech on campus," Harris said.
Increasingly, "students arrive on campus believing they have a right not to be offended" and call for censorship when they inevitably "encounter points of view they find offensive," Harris said.
Fearing negative publicity, college administrators often opt to "follow the path of least resistance" and "acquiesce to these demands," such as disinviting controversial graduation speakers, she said. FIRE said disinvitation incidents spiked in 2013, as The Fix reported.
College Fix reporter Jason Barnes is a recent graduate of Amherst College.
Like The College Fix on Facebook / Follow us on Twitter
IMAGE: dcJohn/Flickr