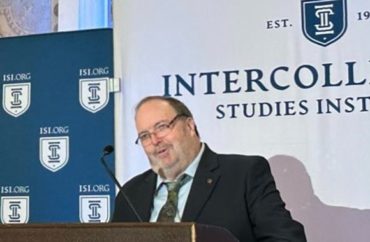 Great leaders combine ambition with humility and respect for a 'fragile inheritance,' Daniel Mahoney said
WILMINGTON, DEL. — At a national conservative organization's annual gathering, scholar and awardee Daniel Mahoney praised "gratitude and the recovery of greatness" against the wokeness of the age.
"I have been committed all my adult life to the essential conservative tasks of preserving and transmitting – and, yes, reforming and renewing – [our] noble civilizational and civic inheritances," he said at Friday speech accepting his award and kicking off the event.
Mahoney is a political theorist, a senior fellow at the Claremont Institute and professor emeritus at Assumption College in Massachusetts. He has written or edited a dozen books on politics, philosophy and culture.
Mahoney received the 2023 Paolucci Award for Conservative Book of the Year from the conservative Intercollegiate Studies Institute for his 2022 work "The Statesman as Thinker: Portraits of Greatness, Courage, and Moderation."
In the book, "I argue [that] greatness of soul and a deeply-felt sense of obligation to truth, liberty, and conscience, go hand in hand," Mahoney said in his speech.
"What towers above and truly endures is the admittedly rare combination of honorable ambition and self-conscious self-limitation, where greatness and goodness coexist," he said.
President George Washington, for example, was an ambitious political leader. Still, he had the humility at the right moment to "leave the stage and go home," Mahoney said in his speech.
Progressives, who assert that authority and tradition are oppressive and racist, lack the greatness to do noble deeds, the humble awareness that they could be wrong, and an indebtedness to the civilization that made them.
"Critical race theory and 'wokeness' have replaced gratitude," Mahoney said.
Such "contempt… has nothing to do with justice, social or otherwise," he said.
"The rooting of evil in suspect groups — the Jews, the kulaks, religious believers, the bourgeoisie, assorted class enemies, and today, perhaps, young white males" is "a sure route to Hell on earth," Mahoney said.
Woke activists demand 'stifling uniformity of opinion,' Mahoney said
In a Sunday email interview with The College Fix, Mahoney expanded on his criticism of woke activism.
"'Race' and 'gender' have become ideological obsessions that justify coercion," he said.
"From Stanford to Princeton to Middlebury–and at many lesser-known institutions in between–woke activists succumb to rage and fury and demand that the inquiry and interrogation at the heart of liberal education give way to a stifling uniformity of opinion and judgment," he said.
"Thoughtful and independent-minded speakers are intimidated and often banned and most typically never invited in the first place," Mahoney continued.
This is "the 'new normal.'"
However, college students can resist by cultivating the virtues of great statesmen [like Washington and Lincoln], Mahoney said.
Each can do this "by refusing to repeat thoughtless clichés and by doing his or her best to embody the old cardinal virtues: courage, moderation, prudence, and justice," he told The Fix.
Even more, the wise student should "open oneself to the wisdom of the past before indiscriminately silencing what one doesn't understand or appreciate."
Paradoxically, "such modesty and humility open the soul to human greatness," he said.
The Intercollegiate Studies Institute was founded by William F. Buckley in the early 1950s to "mentor young men and women to become eloquent defenders of the principles of liberty," according to program literature.
The year's ISI "Homecoming Weekend" theme was "The Next Great American," featuring scholars and other presenters honoring and analyzing some of the statesmen, business and industry leaders and artists who have helped form the United States.
"People often ask me how we can renew the noble tradition of statesmanship," Mahoney said in his speech Friday, referring to great political leaders.
"The first thing to do, of course, is to study them," he said.
Moreover, we must remember that "the choice is ours," he said.
"There is no reason to despair, because free will is a gift from on High," Mahoney said.
"It is up to us to exercise it prudently, justly, courageously, that is, wisely."
MORE: 'Embarrassed' by patriotism: Scholars explain why civics education is failing
IMAGE: Intercollegiate Studies Institute/Twitter
Like The College Fix on Facebook / Follow us on Twitter