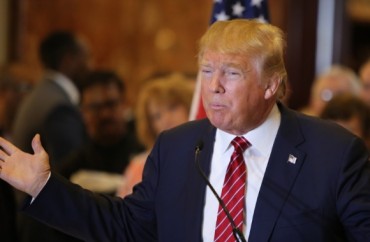 Scripps College's student president says she alerted campus police after "#trump2016" was found scrawled on a dorm room door, calling it "racist … violence," according to an email she sent to the campus community, a copy of which was circulated Saturday on social media.
"This morning, a Mexican-American Scripps student woke up to find her whiteboard vandalized with the phrase '#Trump 2016,'" Minjoo Kim, student body president, said in her March 26 email.
"This racist act is completely unacceptable," Kim continued. "Regardless of your political party, this intentional violence committed directly to a student of color proves to be another testament that racism continues to be an undeniable problem and alarming threat on our campuses."
Kim refers to the fact that Scripps College, a women's college, is part of the Claremont Colleges, a consortium of five undergraduate liberal arts colleges in Southern California.
Kim's email went on to say "campus safety has been notified and we hope to find the person responsible so they can be held accountable for their actions. … Mental and emotional health of our students are our top concern."
The consortium's Campus Safety Department is staffed with a lieutenant and six sergeants, among other officers who respond to campus emergencies.
"Actions and words have consequences," Kim wrote to conclude her email. "Think before you act."
After the memo went out, a screenshot of it began making the rounds. Some peers mocked it.
"@ScrippsCollege, are you trying to be the next Emory?!," tweeted Hannah Oh, a recent grad of Claremont McKenna College, also part of the consortium.
Oh refers to students at Emory University who said they were traumatized and in "pain" over numerous pro-Donald Trump "chalkings" found across campus recently, prompting nationwide scorn and mockery.
In a statement Saturday to The College Fix, Oh said she found Kim's reaction to the Scripps whiteboard message extreme.
"Minjoo's use of the word 'violence' is incorrect and only meant to incite anger and emotional responses from the student body. It's ironic that she talks about how we need to hunt down whoever wrote #Trump2016 to hold them accountable for such unacceptable speech all in the name of creating an 'inclusive, safe, and welcoming' community," Oh said. "Scripps is probably the least welcoming campus for anyone who isn't far left or an ultra third-wave feminist."
Minjoo did not immediately respond to an email sent late Saturday from The College Fix asking how writing "#Trump2016" on someone's dorm room whiteboard is a racist and violent act, and whether alerting campus police was necessary.
The victim in question highlighted the vandalism by making a poster next to
her whiteboard stating "in case you think POC [people of color] are too sensitive nowadays and that racism doesn't exist anymore. I'm a Mexican-American student and someone wrote #trump2016 on my whiteboard. Racism is still a problem on these campuses."
The drawing allegedly appeared sometime late Friday or early Saturday during what amounts to a holiday weekend marking Easter for many. The lettering on the whiteboard and the poster has distinct similarities. Minjoo did not respond to a question of whether it was possible the incident could be a hoax.
RELATED: Emory University students 'in pain' after pro-Trump graffiti appears on campus
Like The College Fix on Facebook / Follow us on Twitter
MAIN IMAGE: A. Katz / Shutterstock