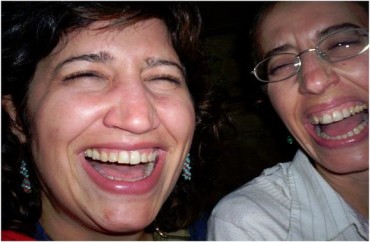 The "White Girls Only" frat party at Yale, apparently based on a single alleged eyewitness and much hearsay, is old news.
Campus officials are decrying newly discovered "racist" signs that read (get this) "All Lives Matter" and "No More Dead Black Children" – without any other context, a seeming nod to the high African-American abortion rate.
Or maybe just an obtuse joke?
The Yale Daily News suggests this was a stunt by an off-campus comedy group called Million Dollar Extreme, whose Facebook page seems to confirm it. (Note that the linked Imgur image shows Facebook removed the uploaded "All Lives Matter" photo for violating "community standards.")
The "racist" signs were alarming enough that Yale College Dean Jonathan Holloway sent an email to the community. (Same guy who loomed over the Yale master as he apologized for his wife's Halloween comments.) Then this bomb:
But Afro-American Cultural Center Director Rise Nelson Burrow told the News that the backs of the signs contained additional messages. According to Holloway, those messages included references to black criminality, violence and acts of rape.
RELATED: Flanked by administrators, Yale master apologizes to students for his wife's Halloween comments
These "racist" signs "offended and scared" two students who saw them on the Old Campus section of Yale, the Afro-American Cultural Center director said:
"The words were strong and scary enough that the students who saw it were shaken and scared," Nelson said. "It's bad that something like this would happen at a time when students are already so fragile."

Nelson added that she and one of the two students who found the signs filed the police report together.
Try not to break up laughing. This is serious.
Holloway hasn't released any evidence of these alleged messages of "violence" on the backs of the signs, but there's a video … that the private school will probably never release:
Holloway's email said the Yale Police has obtained video footage of the incident, and the department's preliminary review indicates that Yale students were not involved.

"Racist messages are disgusting and cowardly," Salovey told the News late Tuesday evening. "I don't ever want to see them on our campus. We need to condemn this kind of behavior."
Again … what is racist about "All Lives Matter" and "No More Dead Black Children"?
Yale seems to be taking its threat to ban all unauthorized recording seriously, because it also kicked conservative video provocateur James O'Keefe off campus and banned him "in perpetuity," The Daily Caller reports:
This "is private property, not a state institution, so they do have the right to tell you to stay off their property," an officer told O'Keefe in a courteous manner. "I am going to inform you, that you are not allowed on Yale University property unless it's areas that are generally open to the public like museums and libraries."
O'Keefe says he was trying to follow up with Yale officials on his explosive video showing an administrator ripping up a copy of the Constitution (with his bare hands) to make an actor portraying a student feel better.
Read the Daily News story and Daily Caller story.
RELATED: Vassar official shreds the Constitution — literally — due to its 'triggering' nature
RELATED: Freedom of the press is under attack from universities and students
RELATED: Yale fraternity denies hearsay that it told minorities 'white girls only' at Halloween party
Like The College Fix on Facebook / Follow us on Twitter