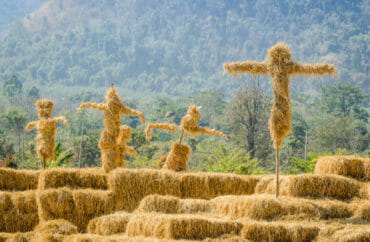 Won't even acknowledge his own colleague's litmus test
Jeremiah Quinlan couldn't defend his Yale admissions colleague's public assertion that "we expect [admitted students] to be versed in issues of social justice," so he set up a straw man to attack.
The dean of undergraduate admissions and financial aid wrote a letter to the editor of The Wall Street Journal that responds to criticisms that weren't made by Yale alum Walter Olson, a senior fellow at the Cato Institute, in Olson's op-ed on Yale's explicit support for high school anti-gun protests.
Quinlan seems to be under the impression that readers can't easily find Olson's op-ed. The dean writes:
Admission decisions will not be rescinded as a result of an absence to participate in peaceful civic engagement, regardless of the issue or cause. This is not the only attribute we look for, and never said it was, despite Mr. Olson's false contention.
Olson did not contend any such thing. He said – quite reasonably – that Yale "makes clear that Yale considers participation in such a walkout [to protest current gun laws] to be a plus" when considering students for admission.
MORE: CNN goads Parkland students into calling NRA 'child murderers'
Letter to WSJ from dean of undergrad @YaleAdmissions, countering a claim I never made: student's activism in community is not "the only attribute we look for." https://t.co/NFQSyQ6zYE

— Walter Olson (@walterolson) March 13, 2018
He was citing a Feb. 23 blog post titled "In Support of Student Protests" by Quinlan's colleague Hannah Mendlowitz, senior assistant director of admissions, that says "of course" Yale won't penalize applicants for "discipline resulting from peaceful demonstrations" of the sort that followed the mass shooting at a Parkland, Florida high school.
Mendlowitz then specified what kind of "peaceful demonstrations" Yale particularly likes:
I have the pleasure of reading applications from San Francisco, where activism is very much a part of the culture. Essays ring of social justice issues. …

For those students who come to Yale, we expect them to be versed in issues of social justice.
Read, if you can, @walterolson 's horrifying piece about how a Yale admissions officer basically says "Yale wants leftists." https://t.co/r8buMfuyt8

— John Podhoretz (@jpodhoretz) March 7, 2018
MORE: Students demand their university forgive HS 'walk out' protesters
Olson muses whether Yale admissions officers would see "social justice" in an applicant peacefully walking out of class to support Second Amendment rights and explaining that decision in the student's Yale application. Or whether it would be wise for a student applicant to say she was convinced by Friedrich Hayek's essay "The Mirage of Social Justice."
Here's how Dean Quinlan characterizes Olson's citations and argument:
Contrary to the op-ed, Yale does not adhere to a specific ideology of social justice. The university does, however, expect its students to be engaged citizens. And students who advocate for legislative action to improve their communities demonstrate the sort of engaged citizenship Yale values—regardless of their ideology or the specifics of the policies they support.
Meanwhile, what had been a call for applicants to be "versed in issues of social justice" has turned into a thing more anodyne: Yale will "expect its students to be engaged citizens." Even that fallback ought to be controversial, if made a requirement rather than a plus.

— Walter Olson (@walterolson) March 13, 2018
Olson responded in a lengthy tweet thread Tuesday, saying Quinlan's disingenuous response raises new issues about what weight Yale gives to "engaged citizenship," however an admissions officer chooses to define the term in the moment.
Quinlan seems to be suggesting a senior who has "mastered a field of study or performance, shown mature character and wide-ranging mind, but never spoken out on a public issue, marched, campaigned or even perhaps taken the time to vote" – assuming the senior is 18 when applying – will be penalized in the admissions process, according to Olson.
Perhaps it's better for Yale admissions officials to stop digging themselves further in the hole and stop responding to criticism.
Read Olson's original op-ed, Quinlan's letter to the editor and the Yale admissions blog post that started it all.
MORE: Parkland students to share their 'expertise' at Harvard
IMAGE: Wuttichok Panichiwarapun/Shutterstock
Like The College Fix on Facebook / Follow us on Twitter