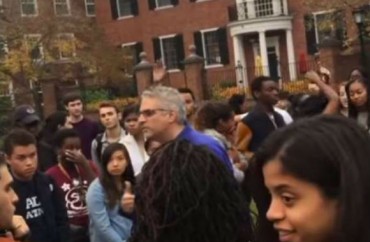 Nicholas and Erika Christakis, who lead Yale's Silliman College as master and associate master, have already been affirmed by Yale's top administrators in the controversy over their comments about policing Halloween costumes.
Faculty still want to demonstrate support for the duo, who are also professors, so 49 of them signed an open letter giving their "strong support" to the Christakises – not just their right to "freedom of intellectual expression," but the substance of their complaint about students demanding a clampdown by administrators:
One can differ with [Erika Christakis's] suggestion that administrative bodies should not play such an oversight role at Yale, but the suggestion itself clearly does not constitute support for racist expressions. We are deeply troubled that this modest attempt to ask people to consider the issue of self-monitoring vs. bureaucratic supervision has been misinterpreted, and in some cases recklessly distorted, as support for racist speech; and hence as justification for demanding the resignation of our colleagues from their posts at Silliman. …

A crucial component of free expression is the possibility of open and civil discussions, without vilifying those who disagree with one's own viewpoint.
RELATED: Yale associate master defends Halloween free expression; outrage ensues
They go to note that the Christakises have been more active in "social justice" efforts than many faculty, pointing to Nicholas's prior work as a hospice doctor with underserved populations:
Progressive values and social justice are not advanced by scapegoating those who share those values.  We join with the Christakises in appealing for discussion based on "positive intent": the assumption that all sides are coming to the table in good faith and with compassion.
The Yale Daily News notes that "two residential college masters and dozens of senior professors" signed the letter, and says its author, physics professor Douglas Stone, claimed that "dozens" more faculty agreed with the letter "but declined to sign it for fear of provoking more controversy."
Indeed, a Twitter user noted that "lots of engineering" faculty were on the letter – a field less given to "social justice warrior" antics.
Faculty sign letter defending Christakis' email https://t.co/x8wOIafQlg 1) not that many 2) lots of engineering 3) others scared 2 sign

— Razib Khan (@razibkhan) November 30, 2015
Stone said faculty supporting the Christakises were troubled by video that shows a student mob gathered around Nicholas and one student in particular cursing at him.
Read the open letter and the Daily News story. Yale faculty can sign onto the letter here.
RELATED: Flanked by administrators, Yale master apologizes to students for his wife's Halloween comments
RELATED: Yale rebukes protesters who demanded firing of 'master' and his wife over Halloween comments
Like The College Fix on Facebook / Follow us on Twitter
IMAGE: Greg Lukianoff/YouTube