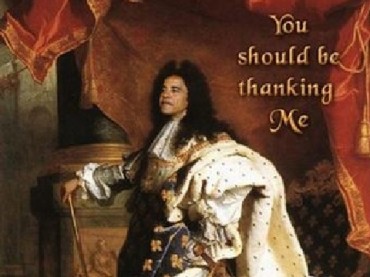 King Obama.
It's getting so bad that more and more scholars are joining in with left-leaning law professor Jonathan Turley in expressing outrage over President Obama acting like he can do whatever he wants with this nation and completely ignore the laws and the Constitution of this land.
The latest to join the chorus is Yale Law Professor Bruce Ackerman, who penned an op-ed in the New York Times regarding Obama's declaration of war against the Islamic State in Iraq and Syria.
"Nothing attempted by his predecessor, George W. Bush, remotely compares in imperial hubris," Ackerman notes. He goes on to argue that:
Mr. Bush gained explicit congressional consent for his invasions of Afghanistan and Iraq. In contrast, the Obama administration has not even published a legal opinion attempting to justify the president's assertion of unilateral war-making authority. This is because no serious opinion can be written. …

Mr. Obama may rightly be frustrated by gridlock in Washington, but his assault on the rule of law is a devastating setback for our constitutional order. His refusal even to ask the Justice Department to provide a formal legal pretext for the war on ISIS is astonishing.

… for now the president seems grimly determined to practice what Mr. Bush's lawyers only preached. He is acting on the proposition that the president, in his capacity as commander in chief, has unilateral authority to declare war.

In taking this step, Mr. Obama is not only betraying the electoral majorities who twice voted him into office on his promise to end Bush-era abuses of executive authority. He is also betraying the Constitution he swore to uphold.
The Mint Press News reports there are other professors chiming in on the same topic, such as Robert Chesney, a professor at the University of Texas School of Law, who told the Daily Beast Obama's claim of authority to bomb ISIS targets in Syria was "on its face" an "implausible argument."
Despite my personal desire to bomb the hell out of ISIS, we must as a nation follow our Constitution. And we must demand the same of our president. And now, as more and more liberal professors voice consternation at this president's "imperial hubris" – perhaps we can finally force Mr. "I've got a pen and I've got a phone" to follow our laws through public humiliation and unrelenting pressure.
Click here to LIKE The College Fix on Facebook / Follow us on Twitter – click here.