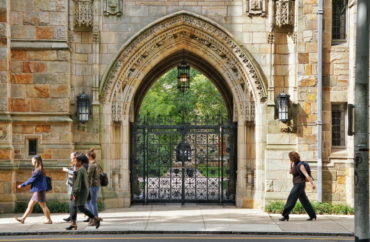 Yale University recently rolled out detailed plans regarding its ongoing effort to embed diversity, equity and inclusion in every aspect of the campus.
In October 2020, Yale launched a coordinated effort across the university to develop a five-year action plan to advance DEI, and this month officials published blueprints from all 25 divisions on campus on how those goals are being met.
The details are spelled out in 25 infographic posters, representing every possible division on campus, including administrative and alumni affairs, athletics, communications and operations.
The schools all have detailed DEI plans as well, including the schools of drama, divinity, arts and sciences, law, architecture, art, STEM, music, medicine, management, nursing, health and the environment.
The infographic posters "provide an overview of the priorities, accomplishments to date, and continuing work identified within the five-year plans, often with an emphasis on the first year," Yale stated on its website.
"Common themes reflected … include faculty and staff recruitment, the New Haven community, school- and division-specific communities, scholarship, teaching and communication."
A spokesperson for Yale did not respond to The College Fix for comment.
Each poster lists the goals each department has set for increasing diversity, equity, and inclusion as part of the overall campus project, dubbed "Belonging at Yale."
For example, the Yale School of Medicine's poster commits to "developing a rubric that takes into account DEI activities in the promotions process" and "modifying the CV supplement to include DEI research, teaching, clinical, and community engagement efforts."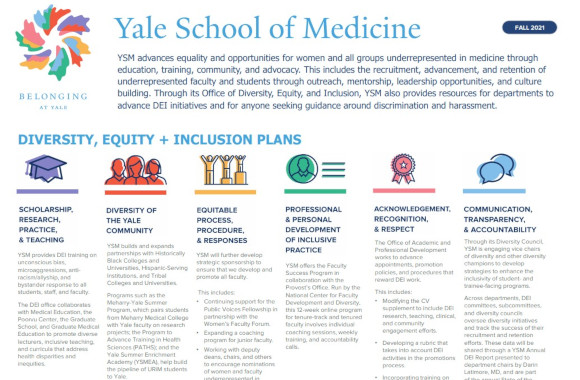 The Yale Office of Public Affairs and Communications committed to subjecting its employees to more DEI training sessions, including one called "OUCH! That Stereotype Hurts."
Yale Law School commits to becoming "a leader in expanding employment opportunities for people with criminal convictions."
The law school also vows to "improve student access to mental health care" and to "emphasize anonymity of student exam accommodations."
In its statement, Yale Health vows to give more awards to its faculty that practice inclusion, and hold more meetings to discuss how to be more inclusive with an emphasis on microaggressions and implicit bias.
The Health Department set a goal for 80 percent of managerial staff to participate in this discussion series and for the conversations and practices shared "to be brought back to departments for further discussion and culture building."
Further, the curriculum will be altered to move more students into diversity-based courses.
"As a priority in the first year, educational sessions will be conducted on recognizing and managing unconscious bias," the Health Department poster reads, adding: "Lectures which focus on cultural needs and competencies will be a priority offering in the second year."
The Secretary and Vice President for University Life announced it will "sponsor and produce programming that shares antiracist scholarship and scholarship that addresses LGBTQ issues, antisemitism, and related topics."
Further, the division pledged to "diversify the vendors, contractors, and professionals we engage, particularly working with New Haven businesses" and "launch a new approach to public safety on campus and coordinate responses to students' public safety needs."
Last year, Yale President Peter Salovey had committed to a new kind of policing on campus.
"Instead of sending police officers to every call, we may offer a consultation with a clinician or help in other ways, depending on the situation," Salovey had said in a message to the campus community in October. "Our focus remains on ensuring the safety of our students, faculty, staff, and visitors, and our police officers will respond to all calls reporting criminal activity."
Underscoring all this, Yale announced it would triple the number of students who participate in First-Year Scholars at Yale, a summer program for incoming students from first-generation or low-income backgrounds.
Yale also committed to doubling the size of the Science, Technology and Research Scholars Program that supports women, minority, and economically underprivileged students in STEM fields.
The Ivy League institution also plans to tout more art within its physical and virtual spaces with works that feature or are created by "underrepresented people."
As a part of the "Belonging at Yale" project, Salovey has also convened a working group to study slavery, expanded financial aid for students from underrepresented groups, and bolstered efforts to recruit more minority faculty members.
"Addressing systemic racism, inequality, and injustice is crucial to improving the world today and for future generations," Salovey has stated. "We have much to do, and together, we will continue to make progress."
Despite the massive Belonging project, some Yale students don't think the efforts go far enough.
"I think there are aspects of these policies that may actually help address some of Yale [College's] diversity and inclusion challenges," student Daevan Mangalmurti told the Yale Daily News in an email. "But I am concerned that these measures both do little — engaging in vague promises and inarticulate articulations of policy — and sidestep the real diversity and equity challenges Yale faces."
Student Patrick Hayes told the paper Yale should "radically rethink" how it could better use its $42.3 billion endowment to "really address racism, injustice and inequality." He further urged the defunding of the Yale Police Department.
MORE: There is now one administrator for every undergrad student at Yale
IMAGE: Helioscope / Shutterstock; inside — Yale University
Like The College Fix on Facebook / Follow us on Twitter