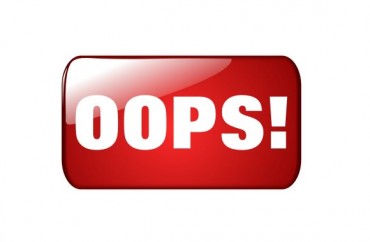 The Yale philosophy professor who went full Godwin's Law on former President Trump last September recently accused a Washington Free Beacon reporter of slander … but backed off when called out on it.
Jason Stanley did not like that Aaron Sibarium had queried the New York Times' Nikole Hannah-Jones (the 1619 Project) about her past use of the N-word.
The question seemed relevant due to the controversy surrounding the supposed "resignation" of the Times' Donald McNeil Jr.
McNeil recently departed from the Times because a two-year-old instance of him using the N-word came forth. As is often the case, he didn't use the term maliciously; he merely repeated a student's use of it when asked, ironically, if a student should be suspended for saying it.
The NYT initially just reprimanded him, but over 150 staffers demanded he be "disciplined." When the paper agreed, McNeil resigned.
Sibarium pointed out that Hannah-Jones' use of the N-word was in a very similar context to McNeil's. The 1619 Project creator responded with a tweet which included Sibarium's personal cell phone number — a seeming doxxing attempt and violation of Twitter's terms of service.
The tweet remained online for almost two full days, whereupon Hannah-Jones subsequently "wiped her entire Twitter history."
Professor Stanley called Hannah-Jones' tweet a "mistake," but claimed the "outrage in response" was "clearly calculated." He also said Sibarium "regularly slanders people in vicious ways on his Twitter feed."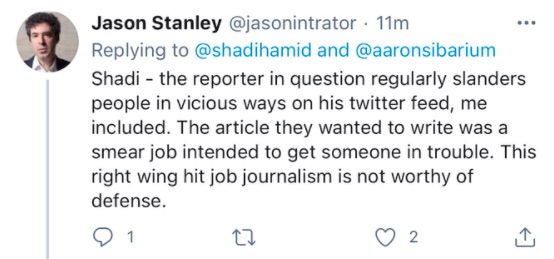 Sibarium responded he's never slandered Stanley because he's "never said anything false about him." Stanley replied he didn't mean 'slander' in the legal sense: "You say I'm incompetent – despite knowing nothing about me – and tweet vicious stuff that then gathers other vicious comments. You take discussions out of context etc."
But "slander" is a legal term, as many pointed out:
There is no other "sense" to the word slander. Lazy tweeting. If you are a professor, I'd suggest expanding your vocabulary. "Criticize," "Misrepresent," "Insult" would get your point across. But accusing someone of slander needs proof. I can't believe I have to explain this.

— Christine Flowers (@flowerlady61) February 10, 2021
How else is slander used but in a leg l sense? Can't just throw around those words as well.

— Anne savage (@Annesav44760106) February 10, 2021
I said slander, but dammit words are tough and I didn't mean slander the way the dictionary means slander.. I said it as my own personal version of slander which you all are too stupid to understand.

— Schaferlight (@Schafer1868) February 10, 2021
You didn't mean slander in the legal sense? Then how did you meant it exactly?

Cause you still haven't provided evidence for your claim, and what you have abounded is in receiving mean responses – on Twitter – and being called incompetent, which is not slanderous.

— BoomGlamm 📖 🇵🇷 (@BoomGlamm) February 10, 2021
Eventually Stanley settled for this … "explanation":
Ok he falsely claimed I am incompetent at things I am competent at.

— Jason Stanley (@jasonintrator) February 10, 2021
Stanley recently changed his Twitter profile picture, apparently in solidarity with Hannah-Jones. He also tweeted "Another day, another attempt to smear Nikole Hannah-Jones. I guess it's how you get your far right bonafides nowadays," and "The way people target Nikole-Hannah Jones is utterly disgusting. The malevolent obsession with her success is a blemish on American society."
MORE: Yale's Stanley to those with whom he differs: "F*** those assholes"
MORE: Stanley: Criticism of 'crybullies' is the real threat to free speech
IMAGE: Shutterstock.com
Like The College Fix on Facebook / Follow us on Twitter