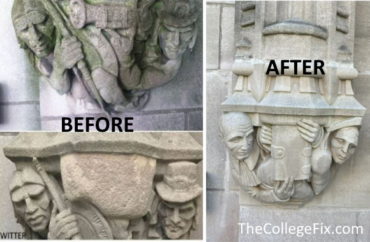 Carving replaced with less offensive imagery
Yale University has replaced a controversial stone carving of a Native American holding a bow and shield and a Puritan holding a musket.
The new carving, located at the York Street entrance to Sterling Memorial Library, shows two figures with a book between them, according to images obtained by The College Fix.
When this new carving was installed, who designed it, and the status of the old, controversial carving remains unclear. A Yale spokesperson said they would provide The College Fix with more details soon.
The original carving was prominently featured on the right side of the library's York Street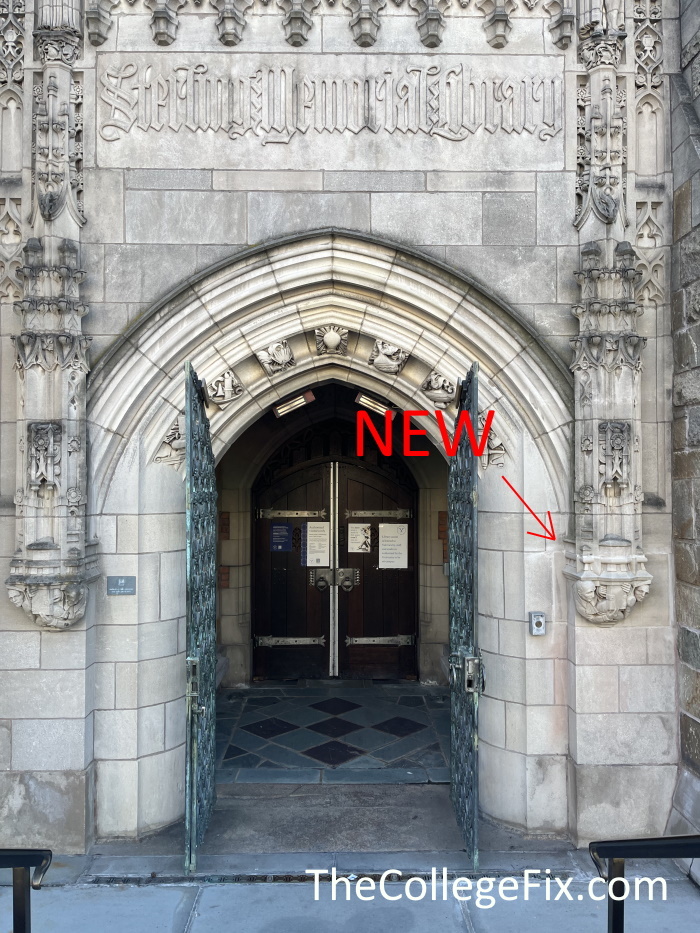 entrance. It featured stone illustrations of a Puritan and a Native American on opposite sides of a column. The Native American was depicted with a bow and shield; the Puritan, with a musket drawn.
The carving is one of two corbels, or weight-carrying architectural elements, at the base of an arch that spans them. Such features are common elements of Sterling Memorial Library and other Gothic Revival buildings on campus.
In 2017, Yale censored the Puritan's musket with a removable stone cover.
Yale's Committee on Art in Public Spaces, which advises President Peter Salovey "on ways to better represent the diversity of the Yale community through the art and other symbolic representations found around campus," determined that the carving ought to be moved and recontextualized.
In August 2017, Yale published a news release about the planned removal of the stonework, "Yale to move stone carving that will remain available for viewing and study."
"The university consulted faculty and other scholarly experts, who concluded that the image depicts a scene of warfare and colonial violence toward local Native American inhabitants," the release stated.
However, the piece "will be made available for studying and viewing" somewhere else, alongside written material placing it in an appropriate context, it added.
President Salovey is quoted in the release as stating, "We cannot make alterations to works of art on our campus."
"Such alteration represents an erasure of history, which is entirely inappropriate at a university. We are obligated to allow students and others to view such images, even when they are offensive, and to study and learn from them."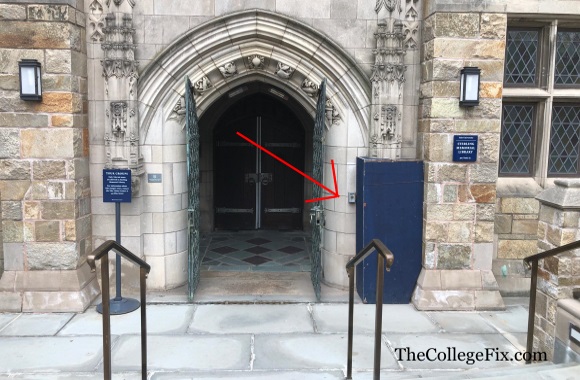 Fast forward to 2019, the controversial carving remained installed at the entrance, concealed behind a large blue box secured to the wall. At the time, a library employee told a College Fix reporter that the statue was unable to be viewed or photographed because the box physically could not be removed.
The Fix had sought an update on the artwork for more than six months before visiting campus.
A campus spokesperson in 2019 had replied with a statement taken verbatim from the 2017 news release but did not respond to specific questions about the artwork's fate. Additionally, The Fix had emailed two Yale librarians with queries which went unanswered.
Sometime between 2019 and December 2021, Yale replaced the Native American and Puritan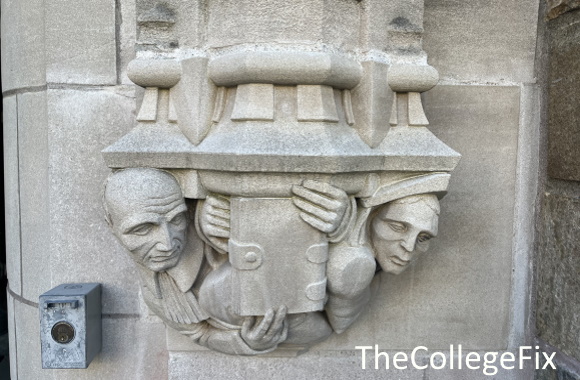 carving with a new stone structure depicting two figures – one wearing a Puritan collar – with what appears to be a book between them, according to pictures obtained by The Fix.
Art history professors at Yale, as well as library officials, did not respond to requests this month from The College Fix seeking comment.
In an Aug. 2019 opinion piece in The Washington Post, Anthony Kronman, Sterling Professor at Yale Law School and former dean, criticized the censorship of the imagery.
"The university's treatment of the carving reflects the belief, shared by many schools, that our college campuses should be cleansed of names and artifacts that awkwardly remind their students that others in the past held values different from their own," he wrote. "​It is hard to imagine a more compelling illustration of the phrase 'safe space.'"
Such safe spaces, Kronman argued, "leave our students ill-equipped for the unsafe space of our wonderful but abrasive democracy."
In response to a follow-up inquiry from The Fix in December 2021, Professor Kronman said in an email that he "remember[s] the incident well," but said he doesn't know where Yale moved the carving or what it plans to do with it.
"I know the offending sculptures have been removed, but where to or with what plans to display them or make them available for study, I have no idea," he said.
MORE: Yale's controversial stone carving remains censored
Like The College Fix on Facebook / Follow us on Twitter