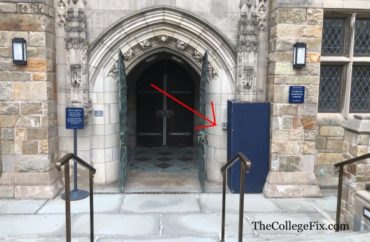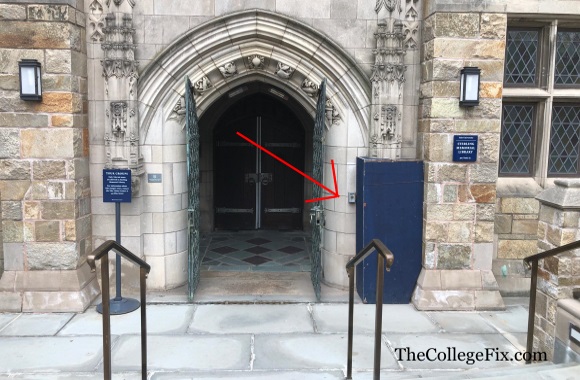 NEW HAVEN, Conn. — In August 2017, Yale University announced its decision to move a controversial stone carving from its library entrance and pledged at the time to make it "available for viewing and studying" elsewhere.
Two years later, the stone carving remains covered up at the entrance to Sterling Memorial Library, and an on-campus request this week by a College Fix reporter to view it was denied.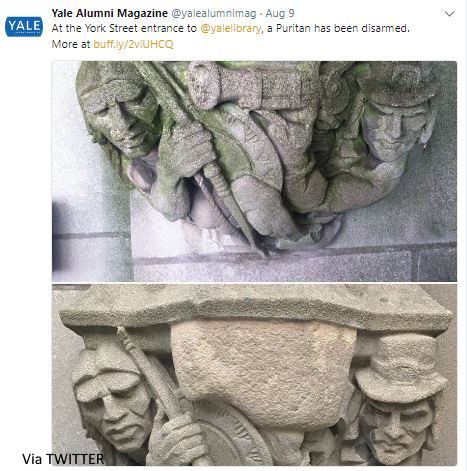 The stonework depicts an armed Native American and Puritan, side by side, holding a bow and musket, respectively. The image was described as "hostile" by the Ivy League institution's alumni magazine, which reported it was "a Puritan pointing a musket at a Native American."
An Aug. 22, 2017, a Yale news release stated the "decorative piece will be made available for study and viewing, and written material will accompany it and place it in historical context."
On Wednesday, library employees told The Fix the artwork could not be viewed because it remains behind a large box painted in Yale's school color, azure blue, that's secured to the wall.
Speaking in person to a representative of Yale President Peter Salovey's office, The Fix was next advised to email the president about the artwork and the status of its relocation. A representative from the campus media affairs office on Wednesday also said no one was available to comment at this time.
Emailed requests to several art history professors at Yale over the last week asking about the artwork went unanswered.
The College Fix has sought an update on the artwork for six months.
In March 2019, a College Fix student reporter sent an email request specifically asking about its status. At that time, campus spokesman Thomas Conroy replied with the wording of the August 2017 news release and did not respond further when asked specifically where the artwork was and whether it had been removed from the library entrance.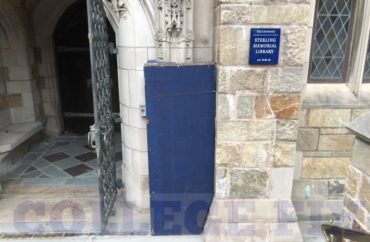 Then, in May 2019, a College Fix editor emailed both Susan Jones, the senior administrative library assistant, and Susan Gibbons, then Yale's University librarian, asking about the artwork. Those requests were forwarded to the campus media affairs office and specific questions about the carving again went unanswered. Gibbons has since been promoted to Yale's vice provost for collections and scholarly communications effective July 1.
Yale's official August 2017 statement on the matter read in part:
The decision to move this carving, contextualize it, and make it available for study is consistent with principles articulated by the Committee to Establish Principles on Renaming (CEPR) and adopted by the Yale Corporation in December 2016. The university has an obligation not to hide from or destroy reminders of unpleasant history; at the same time, the university chooses the symbols and depictions that stand in places of honor. The prominence of this carving changed when its location became a main entrance to the Center for Teaching and Learning.

When the carving was originally discussed in the spring of 2016, the CEPR had not yet been formed and articulated principles. A team in charge of planning for the construction project decided to cover the depiction of the musket with removable stonework. Covering over the problematic aspect of this carving is not consistent with the principles subsequently adopted by the university in the CEPR report; and therefore, when the carving is relocated, the covering stonework will be removed.

In explaining the decision to move the decorative corbel and restore the covered part of it, President Peter Salovey said, "We cannot make alterations to works of art on our campus. Such alteration represents an erasure of history, which is entirely inappropriate at a university. We are obligated to allow students and others to view such images, even when they are offensive, and to study and learn from them. In carrying out this obligation, we also have a responsibility to provide information that helps all viewers understand the meaning of the image. We do so in a setting that clearly communicates that the content of the image is not being honored or even taken lightly but, rather, is deserving of thoughtful consideration and reflection."
When the decision was made, it prompted some criticism.
For example, a National Review column headlined "Yale's Disgraceful Whitewashing of History Continues," written by its critic-at-large Kyle Smith, pointed out that "Yale's insistence that all of history be made to conform with current political attitudes is difficult to distinguish from vandalism."
In the last four years, Yale has also renamed its Calhoun College, named after famous Yale alumnus and Vice President John C. Calhoun, because he supported slavery. It was renamed after Grace Murray Hopper, a U.S. Navy Rear Admiral.
Yale has also done away with its "master" title after some faculty and students said it reminded them of slavery.
MORE: Yale University censors 'hostile' historic artwork
Like The College Fix on Facebook / Follow us on Twitter