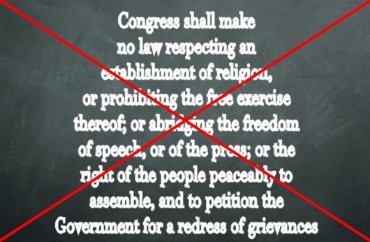 Be afraid. Be very afraid.
It took political satirist Ami Horowitz less than one hour to get 60 signatures from Yale University students signing a "petition" that calls for the repeal of the First Amendment of the U.S. Constitution.
You know, the one that guarantees freedom of speech, freedom of religion, freedom of the press, freedom to assemble. No biggie.
"I think it's really awesome that you're out here," one student told Horowitz. Said another: "I think this is fantastic, I absolutely agree …" Others chimed in with "love it" and similar expressions of support.
Horowitz told Fox News even he was shocked by the results be obtained.
"I decided to take this campus free speech debate to its logical conclusion," he said. "The result was this unbelievable display of total stupidity."
Like The College Fix on Facebook / Follow us on Twitter