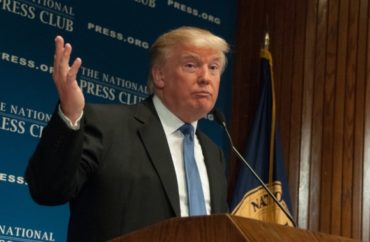 President Donald Trump may be one of the most heavily scrutinized commanders-in-chief in the history of the United States. And with today's hyperfocus on racial diversity and identity politics, this has led to the president taking some heat for his cabinet choices.
For instance, in March 2017, The New York Times published a report headlined "Trump's Cabinet So Far Is More White and Male Than Any First Cabinet Since Reagan's." In June 2017 CNN added its take with: "White males dominate Trump's top cabinet posts." In April 2018 The Atlantic piled on: "The Very Male Trump Administration: The president has named twice as many men as women to appointed positions."
At this, some on the political left screamed foul and alleged the president isn't fond of minorities. Those on the right shot back that people should judged on their merit, not gender and skin color.
Meanwhile, this focus on racial diversity is commonplace among the left, especially in higher education. Many schools spend tens of millions every year on diversity and inclusivity initiatives. Yet — are they as "guilty" as Trump when it comes to white, male leadership?
The College Fix took a look at Trump's cabinet and compared it to Yale's and Harvard's. For the purposes of this comparison, the Ivy League cabinets included primarily the provost, deans of each college, and vice presidents. (Ethnicities were determined using photos, online bios and other resources).
As it turns out, Yale's cabinet has just as many white males as President Trump's – 16 each.
Though Yale's cabinet has nearly double the number of women – 11 – as President Trump's cabinet, all but one of them are white. Furthermore, Yale's cabinet doesn't include any Hispanic members, while President Trump's includes one – Secretary of Labor Alex Acosta.
Also of note: Yale's cabinet has 28 members, only two of which are not white, while President Trump's cabinet has 24 members, with three of them being not white. In other words, Yale's cabinet includes 26 white people, a black woman, and an Asian man, while President Trump's cabinet has 20 white people, a black man, a Hispanic man, and an Asian woman. Both presidents are white males, too.
That makes Yale's cabinet 92.8 percent white and President Trump's cabinet 87.5 percent white. Overall, Yale's cabinet is whiter than the president's, although it includes more women.
Keep in mind, Trump's numbers also include one white male counted twice – Mick Mulvaney – as he is currently serving as the White House Chief of Staff and Acting Director of the OMB.
The College Fix also compared Harvard's cabinet to Trump's.
While white men – 14 – and white women – 7 – still make up a majority of Harvard's cabinet, Harvard has four black women in their cabinet. For reference, Yale only has one black woman and President Trump has zero. However, like Yale, Harvard doesn't have any Hispanic cabinet members, unlike President Trump.
Additionally, Harvard also has two Indian men and one Middle Eastern man in its cabinet, something of which neither Yale nor President Trump has. Though, President Trump did have one Indian woman in his cabinet – Nikki Haley – until she stepped away from the position in 2018.
MORE: American presidency class on Trump: 'catastrophically unfit egomaniac'
IMAGE: Albert H. Teich / Shutterstock
Like The College Fix on Facebook / Follow us on Twitter