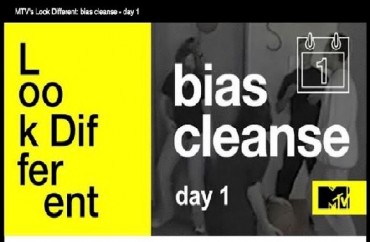 MTV: 'Daily tasks that will help you begin to de-bias yourself'
MTV has launched a social justice campaign that aims to prompt young people to combat "hidden racial, gender and anti-LGBT bias" through a "seven-day racial bias cleanse."
The cleanse call to action is one part of the "Look Different" campaign launched by MTV; another aspect is a controversial new white privilege documentary MTV is slated to air soon.
Look Different includes the "Bias Cleanse," partly the brainchild of the Kirwan Institute for the Study of Race and Ethnicity, which helped create the "seven-day racial bias cleanse that will provide you with daily tasks that will help you begin to de-bias yourself," MTV's website states.
"We'll help you unlearn biases, open up conversations with family and friends and always give you specific things you can do to make things better," it states.
Participants are asked to sign up for the program to receive a daily e-mail that offers specific instructions on how to undergo the so-called de-bias process.
The opening of the initial e-mail reads: "Welcome to the Look Different racial bias cleanse! We're excited that you've decided to take the first step in working on your biases. Every day for the next week, we'll send you a simple exercise, tool, or thought-starter to help you recognize and chip away at your biases."
On Day 1, participants are encouraged to watch a video of basketball players passing a basketball, and are supposed to count the passes. During the video a person in a gorilla suit walks though and is supposed to represent "unconscious ways that our brains work – we can be so focused on one thing that we might totally miss something else that's going on. Essentially, we can be blind to our own blindness," according to the cleanse's creators.
On the second day of the cleanse, subscribers are sent a test that aims to reveal their hidden biases. The test asks them to look at pictures of black people and white people, and words that are associated with positive or negative. The test is supposed to then reveal the test taker's unknown bias.
Day 3 is supposed to address bias against female scientists, and lists several female scientists throughout history, including Jane Goodall and Mae Jemison. The end of the e-mail suggests that the subscriber put an image of a black female scientist as their phone background so they have exposure to "counterstereotypical images" so that it "can help reprogram our minds to build new associations that are different from stereotypes we may automatically hold."
Another part of MTV's Look Different campaign is the upcoming documentary "White People," which will discuss race in the U.S. Its purpose is to "dig deeper into what it really means to be white in our country and why it matters," according to MTV's website. The show is directed and produced by Pulitzer Prize winner and illegal immigrant Jose Antonio Vargas, who traveled across the country interviewing white people about race and why it makes them uncomfortable.
The recently released trailer opens with Vargas telling two young men he's "doing a film on MTV about what it means to be young and white."
The film is already generating some intense backlash around the web.
For example, writer Jim Treacher penned a sharply sarcastic blog on the Daily Caller with his reaction, noting: "If your skin is lighter than somebody else's, you need to check your privilege because you're responsible for their problems. No matter how recently you were born, anything that any white person has ever done in the history of the world is your fault. And if you don't like it, you're a racist. Shut up, racist."
Another headline blared: "New MTV Show Publicly Shames White People For 'What They've Done in America.'"
Some social media responses to Vargas have also not been positive, with one Facebook poster stating: "You sir, are a pathetic excuse for human, a racist, and vile. You are part of the problem. Dividing and pitting race against race instead of bringing them together."
Another response took aim at Vargas' illegal immigration status, and asked him: "Why is it so important for you to be considered an American without going through the process of legal immigration? Also, why is being white an issue for you? Do the Philippines have a legal immigration process?"
But Vargas has defended the film, saying on Facebook: "We cannot have an honest conversation about race in America until we explore and unpack what 'whiteness' and 'white privilege' mean in America. This is not an easy, simply or comfortable conversation. So let's get uncomfortable. Let's talk."
MTV president Stephen Friedman addressed the goal of the show as well.
"Whiteness often remains unexamined in conversations about race in this country, even as it acts as the implicit norm against which other racial identities are judged," he said. "By shining a spotlight on whiteness, we hope 'White People' will serve as a powerful conversation starter that encourages our audience to address racial bias through honest, judgment-free dialogue."
The film is scheduled to premiere July 22 on MTV.
Vargas and MTV officials did not respond to requests from The College Fix for comment.
Like The College Fix on Facebook / Follow us on Twitter