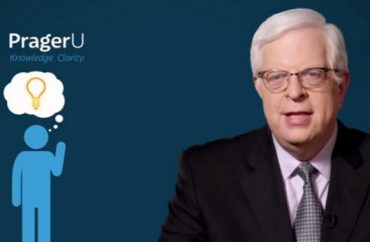 YouTube has placed 21 PragerU videos on "restricted mode," a category meant for inappropriate and objectionable adult and sexual content.
PragerU stands for Prager University. Its four- to five-minute videos promote Judeo-Christian values and principles and are ideal for young people as they distill complex issues into concise bullet points with stimulating graphics.
"We've worked quietly behind the scenes for months to resolve this, but YouTube's censorship continues, leaving us with no option but to go public," PragerU announced Tuesday on its Facebook page.
YouTube is owned by Google, and PragerU states on its website that "in response to an official complaint we filed, Google specialists defended their restriction of our videos, and said, 'We don't censor anyone,' although they do 'take into consideration what the intent of the video is' and 'what the focus of the video is.'"
"There is no excuse for Google and YouTube censoring and restricting any PragerU videos, which are produced with the sole intent of educating people of all ages about America's founding values," the conservative nonprofit states on its website.
The videos feature "the best ideas from the best minds and distill them down to five focused minutes," according to the group, which was founded by conservative scholar and radio show host Dennis Prager.
"We then add graphics and animation to create the most persuasive, entertaining, and educational case possible for the values that have made America and the West the source of so much liberty and wealth," it adds. "These values are Judeo-Christian at their core and include the concepts of freedom of speech, a free press, free markets and a strong military to protect and project those values."
Here's a list of the 21 videos PragerU has requested YouTube remove immediately from restricted mode, some of which are directly related to higher education topics:
Are The Police Racist?
Why Don't Feminists Fight for Muslim Women?
Why Did America Fight the Korean War?
Who's More Pro-Choice: Europe or America?
What ISIS Wants
Why Are There Still Palestinian Refugees?
Are 1 in 5 Women Raped at College?
Islamic Terror: What Muslim Americans Can Do
Did Bush Lie About Iraq?
Who NOT to Vote For
Men and the Power of the Visual
Is America Racist?
Israel: The World's Most Moral Army
Radical Islam: The Most Dangerous Ideology
The Most Important Question About Abortion
Why Do People Become Islamic Extremists?
Don't Judge Blacks Differently
What is the University Diversity Scam?
He Wants You
Israel's Legal Founding
Pakistan: Can Sharia and Freedom Coexist?
PragerU has also launched a petition on the matter.
Like The College Fix on Facebook / Follow us on Twitter