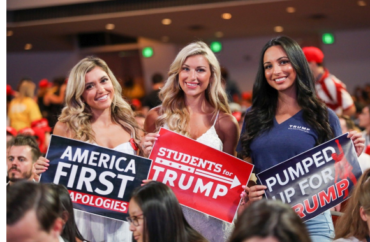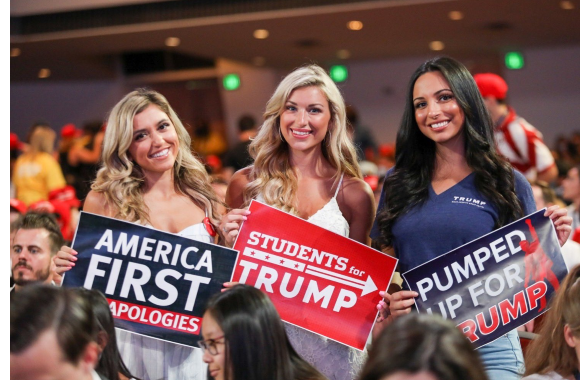 Trump's online persona concerns some, however
Some Generation Z conservative student leaders cited a hawkish immigration policy and support of populist measures as their key issues heading into the 2020 presidential election, according to interviews with The College Fix.
The College Fix sought to gauge some of the top topics important to Generation Z voters, which refers to those born in the mid- to late-1990s. Sometimes they're referred to as zillennials.
A mix of Republican and campus conservative leaders responded from various regions across the country.
San Diego State College Republicans' President Oliver Kvaric, for example, said his chapter supports President Donald Trump because he supports workers. Trump understands "that the American working people make up the lifeblood of this country," Kvaric said via messenger.
Kvaric said the Republican Party can often focus too much on promoting free markets and low tax rates, but that "solutions to ongoing crises such as trade deficits, opioid crises, mass immigration, collapse of the nuclear family, and the outsourcing of millions of jobs may not always be found in the current conservative orthodoxies of free trade and limited government."
It is a view echoed by Turning Point USA's CEO Charlie Kirk, who told The College Fix via email that Republicans have "woken up to the trade imbalances and the broken immigration policies that have left our nation weaker and less capable of dealing with national emergencies from a simple supply chain and labor perspective."
MORE: College Republicans lobby Trump to crack down on guest worker program
"President Trump has turned the conservative movement into one that represents middle-class families and blue collar workers who shower before and after work," Kirk said.
Kyle Hooten, the former vice president of the statewide Minnesota College Republicans and a spokesperson for the group, said his campus groups are trying to appeal to voters in a historically blue state without abandoning principles.
During a phone interview with The College Fix, Hooten said in general his members have "really leaned into President Donald Trump" and that many have volunteered for his campaign.
They are "very happy with the more populist direction that things are going," said Hooten, who has also contributed to The College Fix.
Hooten said his members also appreciate Trump's pro-law enforcement, America first stance: "We've got a lot of members that are Pro-Wall, that are pro-immigration control, that are glad to see the administration clamping down on the riots."
Hooten said some members do have concerns with Trump's messaging, however.
He's not alone.
Jacob Marie, director of political engagement for the University of Connecticut College Republicans, described himself over Facebook messenger as a "sometimes-Trumper."
Marie said many of his peers are "no fan of his temperament." Marie also expressed concern over "the rising cost of higher education, climate change and healthcare." Marie stated if "the GOP wants to survive, it will need to reach out to younger people and minorities to build its coalition."
But it seems Trump's blunt social media persona is a mixed bag when it comes to zillennials, as at least one College Republican activist said she likes Trump messaging.
Erin McGrath, a member of the University of Florida College Republicans, said that Trump "has taken the country in a good direction" and that "we need more politicians like Trump who aren't afraid to say what they think and push back against people of their own party publicly if they feel the need to."
The College Fix also reached out to Gen Z GOP for comment, a new group that said it wants to move the Republican Party away from "Trumpism," according to an article in Commonwealth magazine. After initially agreeing to an interview, the group stopped responding.
MORE: Poll finds nearly 100% of Democratic college students support defunding cops
IMAGE: Students for Trump/ Twitter screenshot
Like The College Fix on Facebook / Follow us on Twitter