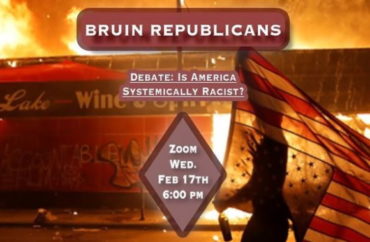 'There can only be one point of view; those with differing opinions must either submit or be shouted down'
Activists used zoom-bombing recently as a tactic to disrupt and attempt to ruin an online debate on systemic racism hosted by the Bruin Republicans at UCLA.
The group's event, "Debate: Is America Systemically Racist," became disorderly after a cadre of their peers disrupted the Feb. 17 online gathering.
The club had noted in advertising the event on social media that "People are free to espouse their own opinions or play devil's advocate if they so choose," along with the Zoom link, allowing anyone to join the discussion.
At the beginning of the debate, the club moderators laid down some simple rules: no foul language, and no insulting or threatening other participants. However, after over 80 people joined the room within the first few minutes, things quickly got out of hand.
The vast majority of participants were self-described leftists with only about a dozen Bruin Republicans present. The zoom-bombers shouted obscenities, personally attacked club members for being "racist," and cited personal anecdotes of facing past racism, such as being asked "where are you from" by a professor as proof of the existence of systemic racism.
With peak participation reaching more than 90 students, it was difficult to logistically handle everyone's comments, club members said.
Anthony Perez-Tejada, a Bruin Republicans club member, said he "was overwhelmed by the amount of participants and the hostility by the leftist students toward my fellow Bruin Republicans."
"Thus, I did not raise my hand to speak until most of the people left," he told The College Fix. "I did not know where to begin. I replied to a few people who were making some hypocritical comments regarding Whites and had my Hispanic identity questioned."
"The same individual who questioned me also kept spamming his Cash App link, telling me that if [I] was not a racist, I would give him money. He was probably doing it as a joke but his persistence makes me think otherwise," Perez-Tejada said.
Due to these issues, moderators were forced to kick some people out of the meeting, and cut down each speaker's time to two minutes. The debate dragged on for over three hours, and participant numbers dropped over time.
As the group became smaller, disruptions diminished.
"After the debate had dwindled to about 18 people, the tension had disappeared and we were actually able to have a reasonable conversation," Perez-Tejada said. "It is a shame that many of the people who had left let their rage get the better of them."
As the debate winded down, one club member opened up a private Zoom room that she called a "decompression space." Bruin Republican members said they were able to talk to each other calmly and reflect on what they had just witnessed.
One self-described conservative student who is not a club member but who attended both the debate and the "decompression space" described the Bruin Republican members as "exhausted and beleaguered, and rightfully so."
"After and during hours upon hours of being yelled at and worn down, there seems to be very little energy left at all," student Peter Smith told The College Fix. "Everyone was just amazed at the insanity that had just occurred. So many times do you hear about conservative speakers getting yelled off stage by an angry mob. However it's very surreal, and quite disturbing to experience it yourself."
"It seemed they were willing to beat us down at any costs, ignoring calls for rational debate until at the very end, when most of the conservatives had left due to the constant pounding of insults and profanities. Only after that, did some people on the left want to talk."
One of the main questions which club members pondered post-debate was whether they should ever host a debate like this again.
The official Bruin Republicans Twitter account released a statement saying, "We will continue this format in the future so that both sides of the political spectrum can grapple with the opposing arguments and create a more holistic worldview."
But some questioned the wisdom of this decision.
"After this fiasco, the mentality of myself, and many of the people that participated in this debate, is that such a thing should not be held again, due to the overwhelming amount of bad faith attacks that we were subjected to," one student replied.
Others argued that the Zoom format, and not debates themselves, are to blame.
Reflecting back on the debate and its ramifications, one Bruin Republican member said it taught him a valuable lesson: "the entire episode does illustrate a deeper point about the leftist psyche. For them, there can only be one point of view; those with differing opinions must either submit or be shouted down."
"By extension, a debate is not an instrument for understanding arguments from two sides of a contentious issue, but rather a means of getting their point across and preventing the other side from responding," he told The College Fix. "If that means violating universally accepted rules of human decency to achieve these ends in a Machiavellian fashion, then so be it."
He asked not to be named for fear of retribution from left-leaning peers on campus.
MORE: UCLA students step on U.S. flag in protest of Bruin Republicans event
IMAGE: Instagram screenshot
Like The College Fix on Facebook / Follow us on Twitter