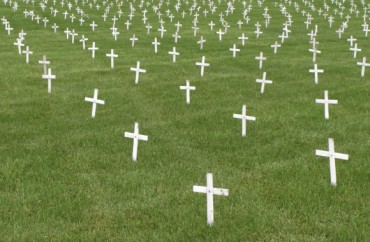 UPDATED
Vandals at Southern Methodist University this week kicked down some 3,000 crosses set up as part of a pro-life display by Mustangs for Life.
Yes — all of them.
What's more, the display has prompted a barrage of attacks on social media, including one threat to "burn down the display," reports Students for Life.
The display had been approved by the university, and represented the 2,904 abortions per day in America.
"The display was set up on Sunday evening about 7:30 pm and [was] done by 9 pm. Only a couple hours later, in the middle of the night, all of the crosses had been vandalized and torn down," Students for Life reports. "The group has since received threats of more violence on the app Yik Yak and one person threatened to burn down the display."
Click here to see video of the damage.
RELATED: Women's Center employee caught red-handed vandalizing pro-life display at UNLV
A police investigation is underway, and the pro-life students woke up at the crack of dawn to re-stand the crosses.
"A beautiful and inspiring moment: 30 people woke up before 6am to help put out 3000 crosses on Dallas Lawn after they were vandalized and kicked down the night before. Thank you all for helping. You have no idea what kind of effect you can have," Mustangs for Life posted on Facebook.
Meanwhile, the pro-life students are taking shifts protecting the display, even up until 2:30 in the morning. Campus police are also standing by "to quell any vandalism," Students for Life reports.
The controversial display, which has spawned plans for a counter protest, has also produced dueling videos, one from a student who made a video rant on Facebook declaring the display wholly insensitive and misguided. Students for Life of America President Kristan Hawkins posted a response, noting "abortion is the opposite of empowering women."
RELATED: High school refuses to post pro-life flyers with baby animals: 'too controversial'
Like The College Fix on Facebook / Follow us on Twitter
UPDATED: To include a link to video of the damage. 
MAIN IMAGE: Shutterstock; Inside: Facebook screenshot