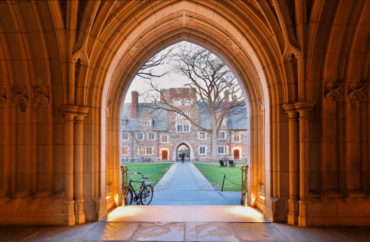 'Atmosphere on free speech is particularly negative for conservative students'
A little over three-quarters of Princeton University students polled in a recent survey said it is sometimes acceptable to shout down a speaker.
The findings come despite a free speech-focused freshman orientation session, a university guarantee of "the broadest possible latitude to speak," and administrators who act as "Free Expression Facilitators."
But the survey results show Princeton University does not adequately promote an environment of free and open discourse, according to Princetonians for Free Speech, an alumni group.
The group conducted a survey of Princeton undergraduate students and reports that, among other results, only 18 percent of students report being "very familiar" with Princeton's free speech rule, and 48 percent support banning offensive speech.
Other key survey findings include that 43 percent believe it may be acceptable to block others from attending a speech, and 16 percent believe violently stopping a speech could be justified.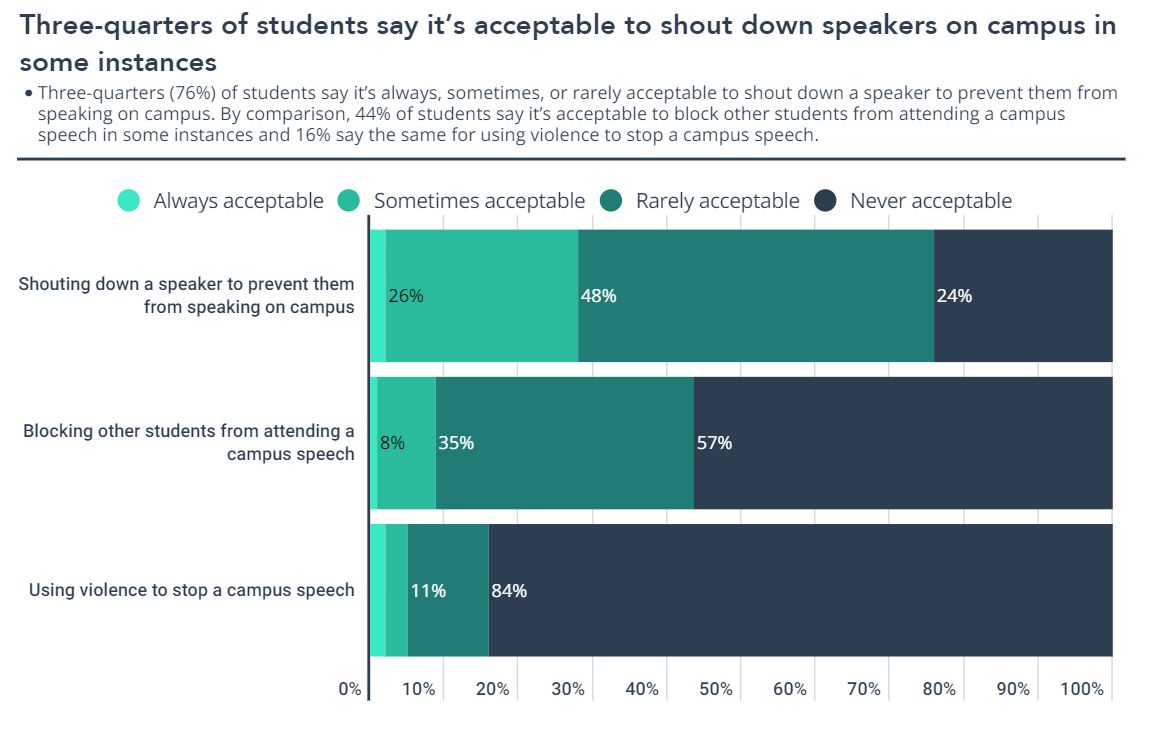 "Our survey shows more needs to be done because most students neither support or understand free speech," said Edward Yingling, a co-founder of Princetonians for Free Speech, in an email to The College Fix.
The survey was conducted by College Pulse, a pollster, and sponsored by the Princetonians for Free Speech.
The survey comes after Princeton's president, Christopher Eisgruber, has openly supported free speech over the past academic year. His remarks include a speech given at a freshman orientation session focused on free expression.
In a campus talk in late April, Eisgruber blamed the right wing for problems regarding free speech, the Daily Princetonian reported.
"Opponents of diversity and inclusion are sometimes using outrageous speech to provoke a backlash," Eisgruber reportedly said, adding those committed to equity "do our best to avoid inappropriate backlash."
Princeton's statement on free expression, adopted from the Chicago Principles, was ratified by the university faculty in April 2015. Princeton was the second school to endorse the Chicago Principles, according to the Foundation for Individual Rights in Education, an advocacy group.
Yingling expressed appreciation in a Real Clear Politics op-ed for some steps the university has taken to embolden free speech, but he maintained "there is a huge gap between the rhetoric and the reality."
Princeton University did not respond to The Fix's request for comment on the survey.
The survey also highlighted how many students feel uncomfortable contradicting professors about controversial topics: 70 percent would feel uncomfortable doing so in public, 59 percent in written assignments, and 56 percent during in-class discussions.
In his Real Clear Politics op-ed, Yingling wrote that the campus "atmosphere on free speech is particularly negative for conservative students."
He noted that "students who identify as either Republicans or as independent and lean Republican are more than twice as likely" than students as a whole to agree that some university employees attempt to indoctrinate them (78 percent to 29 percent).
FIRE, which evaluates schools' free speech policies, currently gives Princeton a red light rating, the lowest mark assigned by the organization. Red light ratings indicate that the university "has at least one policy that both clearly and substantively restricts freedom of speech," FIRE states on its website. FIRE cites Princeton's acceptable use policy as the offending rule.
Princeton University has also been criticized for its treatment of Joshua Katz, a former classics professor who was fired in May 2022. The university said he was fired for violating the school's sexual conduct policy, however Katz and his supporters contend that his firing was a politically motivated response to the professor's criticism of demands made by antiracist colleagues during the summer of 2020.
The handling of the Katz case was one concern cited by Yingling in his email to The Fix.
Yingling referred to intimations by administrators that Katz's opinions were unacceptable, unfavorable references to the professor in fall 2021 orientation material, and a subsequent administrative ruling that found that those actions did not constitute harassment of Katz.
Aside from identifying problems, the survey also "provides input from students on what steps the university should undertake," Yingling said in his Real Clear Politics piece.
The survey gauged the popularity of several ways by which the university might improve its speech environment.
Sixty percent of students want Princeton to hold debates discussing controversial topics; 38 percent believe free speech should be covered in freshman orientation; 36 percent want the school to offer classes on free speech; and 24 percent believe the university should have an ombudsperson to investigate problems with free speech.
Yingling told The College Fix that, for its part, Princetonians for Free Speech will write articles illuminating free speech issues and host its own campus events. The organization held two events last spring and has three planned for the fall semester, according to Yingling.
Its website states that the group is dedicated to restoring the "freedom of speech, academic freedom, and viewpoint diversity at Princeton by establishing, educating, and empowering a nonpartisan community of alumni to demand Princeton embrace these core values, while supporting faculty and students who join our cause."
The organization "works very closely with faculty and students," Yingling told The Fix.
"Last year we formed the Princeton Free Speech Union, which is a formal alliance between [an] informal group of faculty that supports free speech; the Princeton Open Campus Coalition, which is a student free speech group; and us. It is the first formal alliance between faculty, students, and alumni," he said.
MORE: Princeton fires tenured professor who criticized black terrorism
IMAGE: Jay Yuan / Shutterstock
Like The College Fix on Facebook / Follow us on Twitter