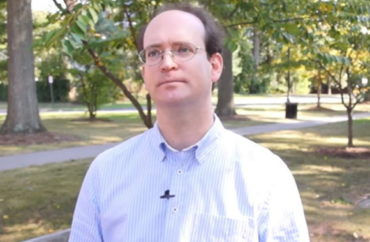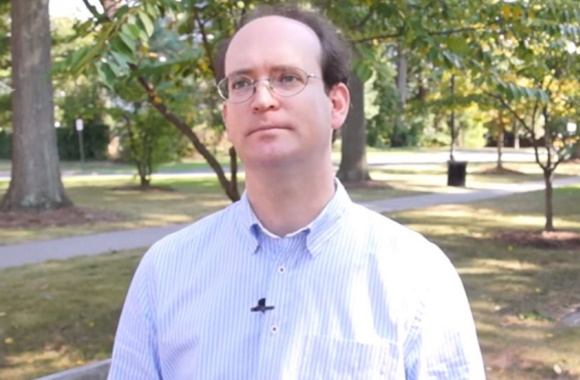 'What we now witness is retaliation, aided and abetted by the Princeton administration, against a member of the faculty for expressing his opinion on a matter of campus politics'
Princeton University has fired tenured classics Professor Joshua Katz, ostensibly for not cooperating with a probe into his sexual relationship with an undergrad 15 years ago, the New York Times reported Monday.
However, he already served out a punishment — a suspension — for the relationship.
"I am both angry and heartbroken, which is a dreadful combination," Katz told the Times on Monday night. And his attorney, Samantha Harris, told the Times that administrators' claim that Katz impeded the investigation is a "mischaracterization."
Katz and Harris have maintained in previous interviews that he was targeted for criticizing anti-racist initiatives on campus and rebuking a group of black students activists for employing highly aggressive tactics.
"The university's decision will have a powerful chilling effect on free speech, because anyone who might wish to express a controversial opinion knows that they must first ask themselves if their personal life can stand up to the kind of relentless scrutiny that Dr. Katz's life was subjected to beginning just days after the publication of his Quillette article," Harris told the Times on Monday.
Katz was a highly decorated Princeton classics professor of nearly 25 years. But his July 2020 "Declaration of Independence" Quillette piece had questioned the racial justice demands lodged by his fellow faculty members. While Katz's "Declaration" agreed with some of the 48 demands, he called out several as "extra perks for no reason other than … pigmentation."
He criticized calls for faculty of color to receive "course relief and summer salary" and to give junior faculty of color an extra semester of sabbatical and human resources support. (They had argued faculty of color deserve it for their "invisible work" as "spokespersons of diversity at Princeton.")
Katz also denounced their request for the university to issue a formal public apology to members of the Black Justice League student group. "The Black Justice League, which was active on campus from 2014 until 2016, was a small local terrorist organization that made life miserable for the many (including the many black students) who did not agree with its members' demands," Katz had written.
Katz's use of the term "terrorist" caused a massive cancel culture campaign against him. In September 2021, Princeton freshmen were taught Katz is an example of racism because of his criticisms.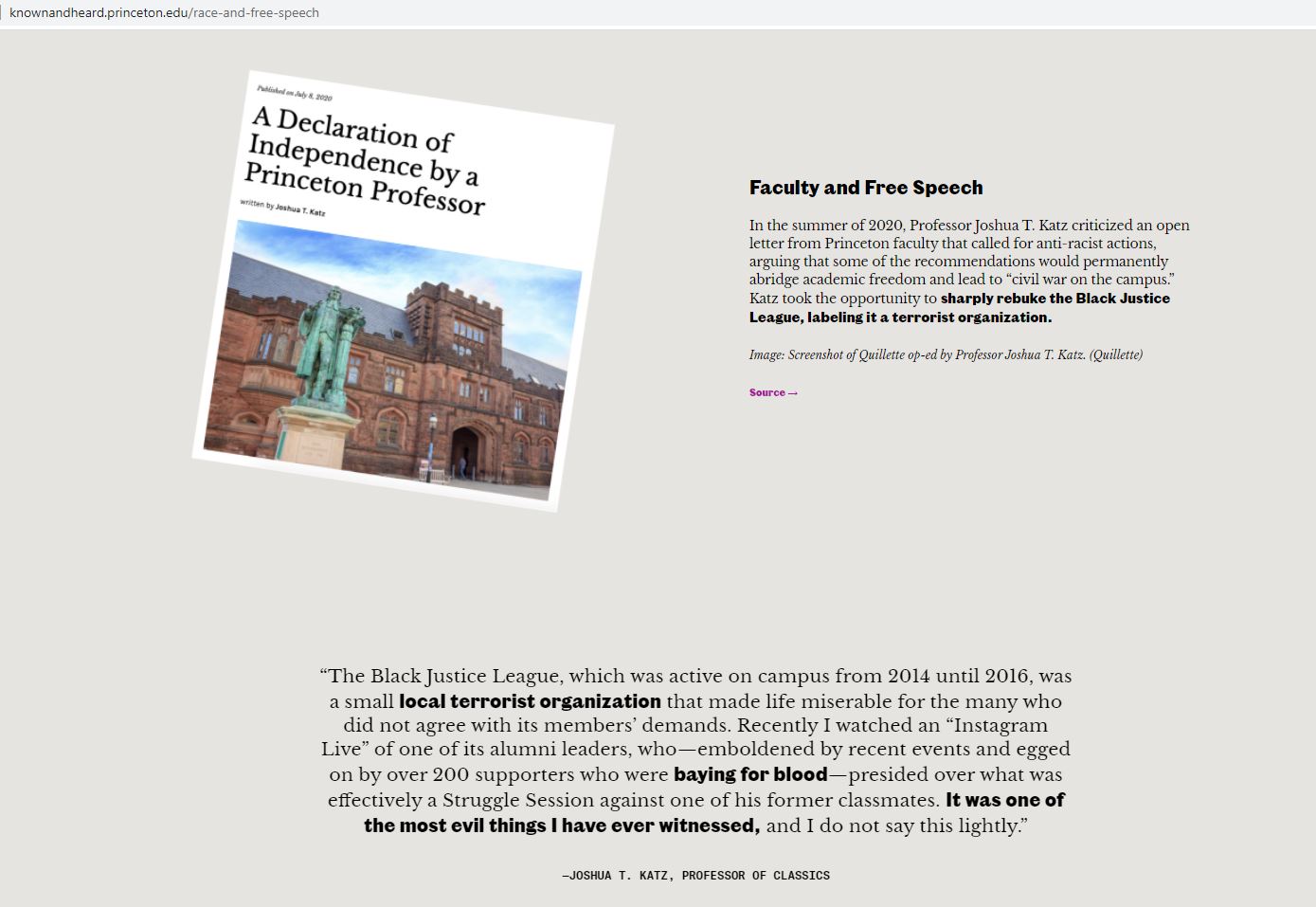 The New York Times reported that Princeton's most recent investigation into Katz had "established multiple instances in which Dr. Katz misrepresented facts or failed to be straightforward" during its previous 2018 investigation into his relationship with the undergrad:
One such instance, the statement said, was "a successful effort to discourage the alumna from participating and cooperating after she expressed the intent to do so." The investigation also found that "Dr. Katz exposed the alumna to harm while she was an undergraduate by discouraging her from seeking mental health care although he knew her to be in distress, all in an effort to conceal a relationship he knew was prohibited by university rules," according to the statement. …

Ms. Harris said investigators had taken things said between Dr. Katz and his former student during bursts of anger and frustration at a stressful time and turned them into much more damning statements, which were belied by context he provided in contemporaneous emails.

Dr. Katz and his allies pointed out that he had already been punished once — by being suspended — for the relationship, and contended that it was being resurrected as a pretext to retaliate against him for the Quillette article.
Many former students and colleagues have come to Katz's defense over the last year.
For example, the American Council of Trustees and Alumni in a March 2022 letter pointed out that recently "eight distinguished members of the Princeton faculty, acting as whistleblowers, submitted a formal complaint against this pattern of harassment and defamation to the Office of the Provost. These professors called for a full investigation of the treatment of Professor Katz."
"… What we now witness is retaliation, aided and abetted by the Princeton administration, against a member of the faculty for expressing his opinion on a matter of campus politics. As one of the eight professors observed, 'We fear that anyone of us can be treated in the same fashion and face similar abuse by members of the University's administration. The danger of retribution which affects all of us will have a pervasive chilling effect on free speech at Princeton.' It appears a 'red line' has been crossed, and unless the trustees intervene, Princeton will forfeit all semblance of its principles of free expression."
Katz is expected to file a lawsuit against Princeton over his termination.
MORE: Professor who criticized extra pay for black faculty labeled example of racism at Princeton
Like The College Fix on Facebook / Follow us on Twitter