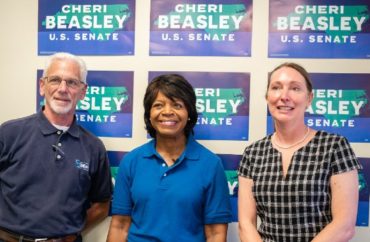 ANALYSIS: North Carolina professors send most of their donations to Democrats
Ninety-five percent of political donations from faculty at the top ten largest universities in North Carolina went to Democrats, according to an analysis by The College Fix.
A total of $689,439.57 went to Democratic federal candidates or organizations during the current election cycle, while Republican candidates only collected $33,773.49, according to Federal Election Commission data. The data was filtered to only include professors and includes the 2022 midterms reporting cycle that began in January 2021. The data are accurate through November 2.
Another $2,199 went to other parties or organizations without a clear political leaning.
The Fix classified donations by party according to the candidate or the leanings of the political action committee. For example, a donation to a gun control group that primarily supports Democrats would be considered a Democratic contribution.
The Fix found in 2020 that 97 percent of North Carolina college faculty political contributions went to Democrats, about the same percentage this year. A recent Fix report found that 96 percent of donations from Ivy League professors went to Democrats.
About 20 percent of the amount went to Democratic Senate candidate Cheri Beasley (pictured). Her opponent, Ted Budd, collected only $500 from professors at the top ten largest North Carolina universities.
Other Democratic Senate candidates for various states received donations, such as Raphael Warnock for Georgia, Val Demings for Florida, and Mark Kelly for Arizona.
Of the top 10 largest schools in the state, Duke University donated the most to political candidates. Professors at Duke contributed $552,562.44 to federal candidates, 94 percent of which was collected by Democrats.
At Duke, Cheri Beasley raised $77,272.46, compared to the total Republican donations of $28,873.49.
Though the Republican donations represented a very small portion compared to Democratic donations, Duke professors still donated the most to Republican candidates and PACs of the 10 universities.
MORE: Democrats outnumber Republican professors 16 to 1 at UNC
Professors at the UNC system campuses, including Chapel Hill, Charlotte, Wilmington and Greensboro, gave $92,233.68 to federal candidates, 74 percent of which went to Democrats. Cheri Beasley raised $15,660 at these state campuses, while Ted Budd collected nothing.
For all federal candidates, Western Carolina University was the most pro-Republican compared to Democratic donations, as nearly 15 percent of donations given went to Republicans.
Other universities included in the analysis were East Carolina University, Appalachian University, North Carolina State University, and North Carolina A&T State University.
At East Carolina University, $13,249.66 went to Democrats and $25 went to Republicans. At Appalachian State University, $19,887.90 went to Democrats and $150 went to Republicans. At North Carolina State University, $26,214.96 went to Democrats and none went to Republicans. At North Carolina A&T State University, $958.50 went to Democrats and none went to Republicans.
Democratic fundraising platform ActBlue processed $126,834.01 in donations while Republican WinRed collected $14,652.50.
The Fix reached out to all 10 universities in the past week to ask if there seems to be bias among professors based on the Democratic political donations and if there is any reason for the large difference in donations between Republicans and Democrats, but received no response.
MORE: Democrat professors outnumber Republican ones 14 to 1 at University of Alaska
IMAGE: Cheri Beasley/Facebook
Like The College Fix on Facebook / Follow us on Twitter