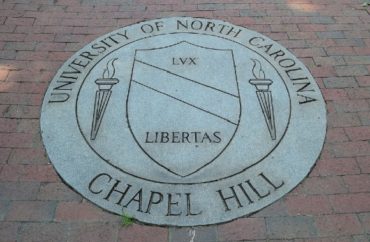 ANALYSIS: Registered Democrats vastly outnumber Republican professors
Democratic professors outnumber Republicans by a ratio of 16 to 1, according to a College Fix survey of 14 humanities and STEM departments at the University of North Carolina at Chapel Hill.
Using voter data from the North Carolina State Board of Elections, The Fix reviewed the political party identification of 405 professors in UNC's philosophy, American Studies, religious studies, women's and gender studies, art & art history, classics, communications, dramatic arts, English and comparative literature, Germanic and Slavic languages and literatures, exercise and sports science, physics and astronomy, mathematics and chemistry departments.
Across UNC's 14 departments, The Fix found 13 registered Republicans and 204 registered Democrats.
In North Carolina, voters who do not register with a political party are called "unaffiliated voters" and do not vote in primary elections. More than 25 of the "unaffiliated" have generally voted in the Democratic primaries, however. Several "unaffiliated" have voted Republican or in both primaries in past elections.
This is the third report to come out from The College Fix in recent weeks about the political affiliation of professors. The survey of Ohio State University professors found that Democratic professors outnumbered Republican ones by a ratio of about 7 to 1 and the analysis of University of Nebraska-Omaha professors found Democratic professors outnumbered Republicans by a ratio of about 5 to 1.
The Fix cross-checked middle names and other potential identifying information against public sources such as academic papers and resumes.
Among the 405 professors, 67 were unaffiliated and 121 were unknown because they could not be identified within the voter database. The Fix survey only included professors, including associate professors and assistant professors within each department, but not grad student teaching assistants or professor emeriti.
The departments of religious studies, women and gender studies, American Studies, art & art history, classics, and Germanic and Slavic languages and literatures all contained 0 registered Republicans.
MORE: Survey finds most college Dems won't room with Trump supporters
Two of the largest departments, English and comparative literature and chemistry, had the greatest disparity between Democrat and Republican professors. The English department had 46 registered Democrats to two Republicans, a ratio of 23 to 1, while the chemistry department had 28 Democrats to one Republican.
While Trump narrowly won North Carolina in the 2020 presidential election, UNC is located in Orange County which is predominantly Democratic.
The Fix asked UNC's media team if the university undertakes any specific recruiting efforts, to bring in a mix of political beliefs among its professors such as holding events for graduate students at conservative colleges such as Hillsdale and Franciscan University of Steubenville.
UNC's media team referred The College Fix to a message delivered on July 29 by UNC's chancellor.
"Our university is a big and diverse place, making room for an array of different viewpoints, and that calls for thoughtful restraint on the part of leadership when it comes to weighing in on controversial issues," Chancellor Kevin Guskiewicz stated. "When university leaders commit the institution to a political position, it can chill dissent and silence alternative views."
The Fix also contacted some of the chairs of the six UNC departments with no Republicans.
Classics chair Professor Donald Haggis told The Fix that his department  does not undertake any specific efforts to recruit conservatives but rather uses, "academic field, specialty, or research area," as "search criteria."
"We do not use institution or political affiliation as search criteria. If an applicant from Hillsdale, Franciscan University of Steubenville, or Liberty had a PhD in classics (ancient Greek and Latin), I am sure that we would consider their application," Haggis stated.
MORE: Bloomberg believes higher ed is overflowing with free and open debate
Not all of his faculty members have classics doctorates. Some have doctorates in art, archaeology and literature.
The Fix contacted 12 of the professors registered as Republicans, one did not have contact information, and asked for confirmation and comments on political diversity on campus. Only one responded but indicated she did not want anything to do with the article.
The College Fix has chosen not to publish its spreadsheet of specific names to protect the identity of Republican professors.
Breakdown:
Department of Philosophy:
Republicans: 1
Democrats: 11
Unaffiliated: 2
Unknown: 18
Total: 32
Department of American Studies:
Republicans: 0
Democrats: 12
Unaffiliated: 2
Unknown: 3
Total: 17
Department of Religious Studies:
Republicans: 0
Democrats: 12
Unaffiliated: 2
Unknown: 6
Total: 20
Department of Women's and Gender Studies:
Republicans: 0
Democrats: 7
Unaffiliated: 0
Unknown: 1
Total: 8
Department of Art & Art History:
Republicans: 0
Democrats: 11
Unaffiliated: 0
Unknown: 2
Total: 13
Department of Classics:
Republicans: 0
Democrats: 10
Unaffiliated: 0
Unknown: 3
Total: 13
Department of Physics and Astronomy:
Republicans: 1
Democrats: 17
Unaffiliated: 18
Unknown: 11
Total: 47
Department of Communications:
Republicans: 1
Democrats: 16
Unaffiliated: 3
Unknown: 8
Total: 28
Department of Dramatic Art:
Republicans: 1
Democrats: 13
Unaffiliated: 3
Unknown: 5
Total: 22
Department of Math:
Republicans: 4
Democrats: 5
Unaffiliated: 13
Unknown: 20
Total: 42
Department of English and Comparative Literature:
Republicans: 2
Democrats: 46
Unaffiliated: 4
Unknown: 21
Total: 73
Department of Germanic and Slavic Languages and Literatures:
Republicans: 0
Democrats: 7
Unaffiliated: 1
Unknown: 2
Total: 10
Department of Exercise & Sports Science:
Republicans: 2
Democrats: 9
Unaffiliated: 10
Unknown: 13
Total: 34
Department of Chemistry:
Republicans: 1
Democrats: 28
Unaffiliated: 9
Unknown: 8
Total: 46
MORE: 98 percent of political donations from University of Wisconsin system goes to Democrats
IMAGE: Yeungb/Wikimedia Commons
Like The College Fix on Facebook / Follow us on Twitter