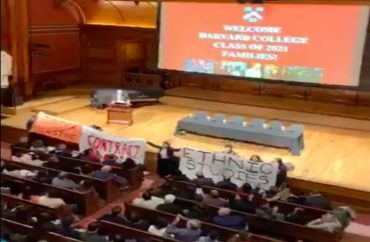 Protest topics included Palestine, ethnic studies, prisons
A broad variety of student protesters on Friday interrupted a speech by Harvard President Lawrence Bacow during the university's Junior Family Weekend, unfurling banners and marching in front of an assembly to demonstrate for at least seven different causes.
The Harvard Crimson reports that Bacow was delivering a welcoming speech to family members at the school's Sanders Theater when numerous students "stood in front of the stage and hoisted banners" while others "draped additional banners" over the balustrades of the theater balcony.
The activists apparently represented a broad, variegated cross-section of political movements at Harvard, according to The Crimson:
Protestors stood in front of the stage and hoisted banners that read "Justice for Palestine," "Contract Now," and "Ethnic Studies Now" as Bacow spoke. Students in the balconies draped additional banners, including one that read, "Nobody Wins When Harvard Invests in Climate Injustice, Prisons, Stolen Land, PR Debt."

The banners appeared to represent causes taken up by a variety of student activist organizations, including Fossil Fuel Divest Harvard, Harvard Prison Divestment Campaign, Harvard Ethnic Studies Coalition, and Harvard Out of Occupied Palestine.
Video posted to the Facebook account of the Harvard Task Force on Asian and Pacific American Studies showed a several-minute clip from the scene, in which protesters line up with banners in front of the stage while Bacow continues to speak to the crowd.
Near the end of the video, as Bacow is wrapping up his speech, the protesters begin chanting slogans such as "Bacow Bacow, you can't hide, we've got history on our side!" and "We've got the power! Student power!"
One parent who was present at the speech suggested the protesters had overplayed their hand. "I think to some degree it may have had a reverse effect, in the sense that it may have been a little bit overkill to some people in the audience not knowing what it was all about. It could be looked upon as not appropriate of the occasion, versus doing it as people are walking out, or providing the opportunity for more one-on-one discussion," he told The Crimson.
MORE: Activists shut down Harvard's president. The school didn't even threaten to punish them.
IMAGE: Harvard TAPAS / Facebook.com
Like The College Fix on Facebook / Follow us on Twitter