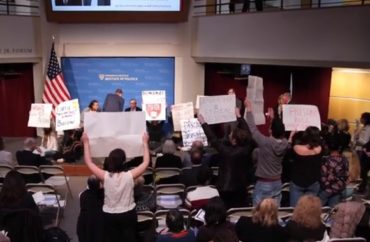 Divestment is their new 'favorite tactic'
Universities tell students it's okay to disrupt campus events when administrators fail to punish activists for previous disruptions.
Harvard University went even further with anti-fossil fuel activists: It didn't threaten to punish them at all.
Isa Flores-Jones of Divest Harvard told The Harvard Crimson that "none of" the group's members were "directly" threatened with discipline, much less punished, for their shutdown of President Lawrence Bacow's event with the Harvard Kennedy School in April.
The activists took over the stage before Bacow and Graduate School of Education Dean Bridget Terry Long could start talking. Kennedy School Dean Douglas Elmendorf feebly asked the protesters to move to the back of the venue, but they refused even that, according to the Crimson.
Bacow finally spoke up after "several minutes" of din to scold the protesters, but didn't bother having them physically removed. Instead, the administrators deplatformed themselves and relocated the event to an inferior venue, rewarding the activists for their intolerance.
MORE: 0.36% of Harvard community signs fossil fuel divestment petition
For some reason, Harvard gave different treatment to another group of protesters who created a ruckus at the event, the Harvard Prison Divestment Campaign, which seeks to remove prison stocks from Harvard's endowment, according to organizer Zoe Hopkins.
She told the Crimson that resident deans at Harvard College and deans in the law school "were asked to identify students who were involved in the protest." Even then, HPDC member Salma Abdelrahman said some members were only "informally told" they could be punished if they did something like that again. The Crimson said no students are known to have been punished.
It's not clear why one group got at least informal warnings: Flores-Jones said the anti-fossil fuel activists use "many of the same tactics" as their anti-prison peers. It was the first protest where the two campaigns joined forces.
Harvard declined to comment on disciplinary issues to the Crimson. The campus newspaper noted the hollow threat of punishment in a feature on how divestment had become the "favorite tactic" of campus activists.
MORE: Harvard Law commemorates anniversary of likely racial hoax
IMAGE: TheHarvardCrimson/YouTube
Like The College Fix on Facebook / Follow us on Twitter