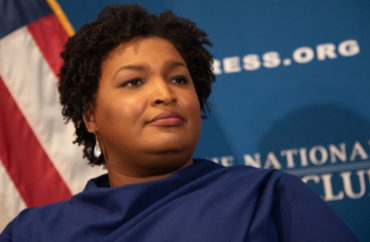 Stacey Abrams, who twice unsuccessfully ran for the Georgia governor's seat, will join the staff of Howard University as a professor of race and black politics, the university announced Wednesday.
The fiery Democratic politician challenged the 2018 gubernatorial election results, refusing to concede to Republican challenger Brian Kemp in an now-infamous speech.
"More than 200 years into Georgia's democratic experiment, the state failed its voters," Abrams said at the time, arguing that "eight years of systemic disenfranchisement, disinvestment and incompetence had its desired effect on the electoral process in Georgia. … Let's be clear: This is not a speech of concession because concession means to acknowledge an action is right, true or proper."
At Howard, she will serve as the inaugural Ronald W. Walters Endowed Chair for Race and Black Politics.
"In this role, Abrams will foster interdisciplinary collaborations across the University on critical issues of race and Black politics, especially those issues that affect Americans of the African diaspora," the university stated in its announcement. "The chair will inspire research and encourage broad discussions of scholarship for real-world solutions to complex, seemingly insoluble societal problems that adversely affect African diasporic communities and other vulnerable populations."
In this role, Abrams will also decide on who to invite for a speaker series at the school, it stated.
"We are at an inflection point for American and international democracy, and I look forward to engaging Howard University's extraordinary students in a conversation about where they can influence, shape and direct the critical public policy decisions we face," Abrams said in the news release, which highlighted her 10-year political career in the Georgia General Assembly in 2007 and philanthropic efforts.
She is considered a darling of the left, which fans like Oprah Winfrey and the ladies of "The View." She also joins unelected politicians who turn to teaching.
As The College Fix previously reported, Hillary Clinton is now a professor at Columbia University, and Steve Sisolak, Tim Ryan and Robert Beto O'Rourke are teaching at the University of Chicago.
MORE: Prof offers extra credit to attend Georgia Democrat's campaign rally
IMAGE: Al Teich / Shutterstock
Like The College Fix on Facebook / Follow us on Twitter