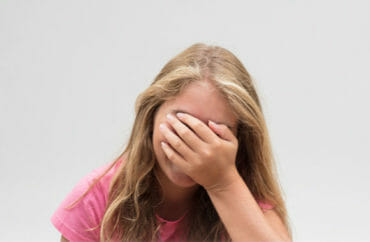 When the news broke that a white nationalist had shot up a couple of mosques in New Zealand murdering almost 50 people, it was only a matter of time before TDS — Trump Derangement Syndrome — manifested itself among academia on cable news and social media.
The fact that the killer specifically cited President Trump as a "symbol of white identity" was red meat for Trump haters; of course, in the very same sentence in which the killer wrote that, he had also ripped Trump's incompetence as a political leader. This has been ignored in order to "score points," natch. After all, "you never let a serious crisis go to waste," as Rahm Emmanuel once said.
Harvard's Laurence Tribe never disappoints in this regard; the law professor tweeted that President Trump "is knowingly inspiring racial hatred and violence":
This mass murderer's manifesto invoked Trump as his hero. Trump is knowingly inspiring racial hatred and violence. And he has begun linking such talk to what'll happen if we dare to remove or replace him — even at the polls. Like the dictators he admires.https://t.co/nlprn76HSo

— Laurence Tribe (@tribelaw) March 15, 2019
Kingston University's David Rogers followed suit:
President Trump: your condolences sound very hollow when they come after you encouraged and condone violence by your supporters whose beliefs are similar to those expressed by one of the terrorists who also cited you as an influence

— David Rogers (@DLRogKingston) March 15, 2019
Not to be outdone is former Drexel University professor George "All I Want for Christmas is White Genocide" Ciccariello-Maher: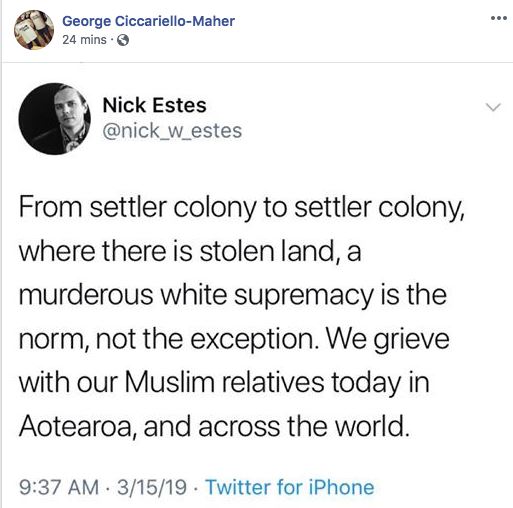 Princeton University's Eddie Glaude appeared on MSNBC to discuss the tragedy, opining that "the problem is not with immigrants" nor with "people of color" but "the crisis of whiteness" which is generating "unimaginable carnage." Glaude is the genius who recently claimed the Covington Catholic High School students are a symbol of "white privilege" and a "yearning" for a return to the 1950s.
St. John's University adjunct art instructor Adrienne D'Angelo really took it to the chief exec following news of the massacre, imploring Trump to resign under the "#Resist" hashtag.
The white terrorist of the New Zealand mosque attacks acted out of support for you because you symbolize "white identity and common purpose". Resign. You're incapable of anything but decisiveness; inhuman & heartless. Jews, Muslims, women, blacks, Latinos; we all #Resist https://t.co/Xs7cpQgCLn

— 𝐏𝐫𝐨𝐟𝐞𝐬𝐬𝐨𝐫 𝐀 𝐌𝐮𝐬𝐞 💬 (@ProfessorAMuse) March 15, 2019
D'Angelo also said that the White House is "ground zero for white supremacist terrorism":
Uh "Babe" let's be honest
1. A man just killed 49 ppl b/c Trump's hate words & actions gave purpose
2. New Zealand banned sales of automatic rifles within 24 hrs
3. The White House is ground zero for white supremacist terrorism
Sowing love means tending the garden of good & evil

— 𝐏𝐫𝐨𝐟𝐞𝐬𝐬𝐨𝐫 𝐀 𝐌𝐮𝐬𝐞 💬 (@ProfessorAMuse) March 16, 2019
Just so you know the mindset in play here, D'Angelo once compared President Trump and Education Secretary Betsy DeVos* … to Hitler:
For some, President Trump wasn't the only one culpable for the murders. Rightist political figures such as Tommy Robinson, Lauren Southern, and Stefan Molyneux played a role, according to Professor Paul Spoonley of New Zealand's Massey University. John Battersby of the same school stated that, besides Trump in the United States, the alt-right are "emboldening potential terrorists."
Even average joes had a hand in the killings as … the Brexit vote is complicit. So says Professor A.C. Grayling:
'Go back to your country': join some dots. They go all the way to New Zealand and back. From passive xenophobia to active hate, this is a cancer in our world. And unquestionably, Brexit has stirred it up in our country, and that's a disgrace. https://t.co/G60OYX6zdo

— A C Grayling #FBPE #PeoplesVote #RemainAndReform (@acgrayling) March 15, 2019
MORE: White university dean skewered for using N-word; blames Trump
MORE: Undocumented student loses school gov. position, blames Trump
IMAGES: Giulio Fornasar / Shutterstock.com, Facebook
Like The College Fix on Facebook / Follow us on Twitter