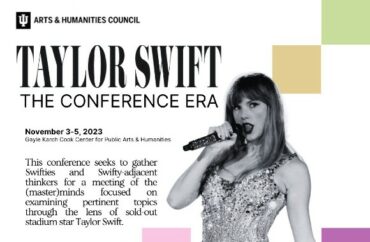 Sold-out event includes panels on politics, sexuality of pop star
Gender, capitalism and feminism will be among the topics discussed at an upcoming academic conference about "the phenomenon" of Taylor Swift at the Indiana University-Bloomington.
Billed as the "world's first academic conference" centered solely around the celebrity, the Nov. 3 and 4 event, "Taylor Swift: The Conference Era," will bring together fans and scholars to discuss "pertinent topics through the lens of the star," according to IU News.
The IU Arts & Humanities Council is sponsoring the event, including "speakers who will reflect upon the icon's cultural relevance and her influence on pop culture, the economy, gender, fandom, politics, music theory, history and more," the report states.
Given Swift's recent record-breaking Eras Tour, the conference will provide "an opportunity to not only reflect on, but also re-imagine Swift's extensive impact. Scholars and fans alike see this as a critical time to discuss and analyze Taylor Swift's impact during yet another peak in her extensive and iconic career," the council website states.
The keynote speaker, Brenda Weber, a professor and gender studies scholar in the College of Arts and Sciences, will speak about gender and "Miss Americana," a 2020 documentary about Swift.
Organizers also issued a call for academic papers about Swift on topics such as "intersections of identity: gender, sexuality and politics," "genre blending," "copyright intellectual property," fashion, and advertising.
The council website promotes workshops and panel discussions with more than 30 scholars from across the world on topics such as "Feminism and Capitalism," "Taylor as an Anti-Hero," and "Tour Economy and Crowd Culture."
In response to a request for the conference schedule, a spokesperson told The College Fix via email the full schedule is still being finalized and directed The Fix to the conference organizer, who did not respond.
The event is an academic conference at a public university, but the website states children as young as 12 may attend. According to the event page, the conference will not feature "flashing lights or troubling content."
The event already is sold out, according to the website of the Buskirk-Chumley Theater, the location of the conference.
Swift has been the subject of other academic discussions in the past. In 2021, a Rensselaer Polytechnic Institute ethnomusicologist hosted a similar virtual event where topics included how "the politics of whiteness" relates to the singer/song-writer's fan base.
MORE: Defenders of Taylor Swift video guilty of 'white supremacist fatphobia': professors
IMAGE: IU Arts & Humanities Council/Indiana University-Bloomington
Like The College Fix on Facebook / Follow us on Twitter