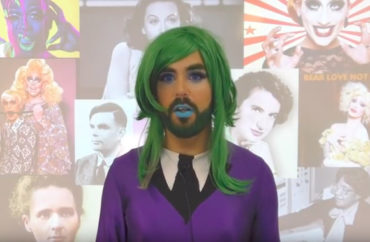 'Sassy Science' meant to boost sexual minority representation
A physicist and PhD student at the University of Zaragoza is using a unique method to "empower" minorities in science and technology fields: cross-dressing drag.
In an article on the website Lady Science, Mario Pelaez-Fernandez claims that although drag has become a "media phenomenon," it is still uncommon in scientific fields. He claims that this is in part because "sexism, racism, ableism and LGBTphobia remain very much alive in academia."
In order to reach out to LGBT individuals in STEM fields, Fernandez, a PhD candidate at the University of Zaragoza, launched the "Sassy Science Project," a YouTube series which aims to bring LGBT students into science, technology, engineering and mathematics. In the series, Fernandez dresses as a drag queen with the name "Dr. Sass" and gives lectures to viewers.
In an interview with The College Fix, Fernandez said that his YouTube videos currently have a combined 9,000 views, and that the series "has had a lot of media coverage."
Although Fernandez's activism did not begin on the Internet, the professor said that "the internet has sort of been an evolution for my activism." He previously performed in drag shows for three years before beginning his YouTube channel, he said.
When asked why he personally performs in drag shows, Fernandez that his drag endeavor "goes beyond the project, really."
"I've performed locally and honestly it is not just liberating but it lets me express my creativity without any kind of boundary. And I think that's wonderful not just for me as a person, but as a scientist. In research, we need creativity a lot more than one would think."
"I don't usually do events alone, but I've been a part of some Scicomm events here in Spain, and I presented my project a year ago at the European Open Science Forum in Toulouse," he added.
The lectures consist of three different focuses. The first, and current, part of the lecture series is about women in STEM fields whom Fernandez believes "got robbed" and didn't receive the credit they deserved for their accomplishments.
In Fernandez's words, the series "focuses on the life, history, and science of these queens—all sprinkled with a little bit of drama mama, a pinch of memes, and a lot of drag references."
Fernandez said he began the project because he was "trying to find a language that was targeted specifically at minorities," and that he "knew what it was like to deal with LGBTphobia."
The YouTube channel currently has 687 subscribers and features six videos promoting or providing content.
MORE: Student called into Title IX meeting after he criticized drag show
MORE: Theology prof: Jesus was a 'drag king,' had 'queer desires'
IMAGE: SassyScience / YouTube.com
Like The College Fix on Facebook / Follow us on Twitter