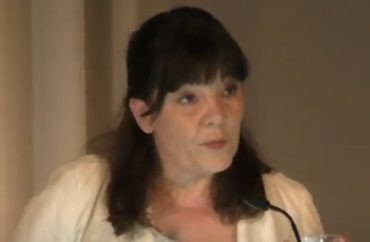 Says it is 'right' to says 'professors are the enemy'
Academics and university officials have an "ethical" and "professional duty" to "denounce the GOP," according to one professor at the University of Michigan's flagship Ann Arbor campus.
"Republicans say professors are the enemy," Professor Silke-Maria Weineck wrote in an essay for The Chronicle of Higher Education on September 6. "They're right – we are."
The German and comparative literature professor started her essay by criticizing that a university dean had a conversation with another professor after the parent of a student complained about what was perceived to be an inappropriate tweet.
Commenting on efforts by conservative activists to have a say in what books are used in classrooms and libraries, Weineck (pictured) called for her fellow scholars to stand up against Republicans.
MORE: No further updates on UMich 'diversity of thought' forum
"Under the circumstances, it is not merely acceptable to denounce the GOP — clearly, loudly, profanely," she wrote. "It is our ethical and professional duty."
She wrote further that Republicans have a "longstanding contempt for knowledge and expertise" in fields that include "history, public health, climate change, or ecology." While writing her essay calling for denunciation of half of the country, Weineck argued that "colleges are not, in fact, left-wing institutions."
"Rather, they are hierarchical operations largely dedicated to reproducing a social order that benefits the upper-middle class, liberals and conservatives alike," she wrote.
She wrote that Republicans are "ready to wage open war with colleges, intent on confiscating the social capital they wield" and this "is a moment of considerable peril."
She commented on past statements by Ohio Republican Senate candidate J.D. Vance who has said "professors are the enemy" and wrote "he is correct."
"He is our enemy, and we must be his. I welcome his hatred," she wrote. "As a modest start, I suggest that we no longer respond to Republicans who complain about professorial tweets with anything other than a short form letter. I would be happy to draft it."
MORE: Many Republicans are 'anti-intellectual' and 'anti-science,' Cornel professor says
IMAGE: ICI Berlin Institute for Cultural Inquiry/YouTube
Like The College Fix on Facebook / Follow us on Twitter